BMW M5 F10 - Best BMW M cars
The F10 M5 moved from V10 to V8 power, proving that downsizing isn't all bad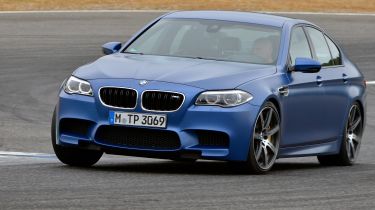 A high-revving V10 was always going to be a tough act to follow, but BMW's M division responded to the inevitable pressures to improve efficiency with the equally stupendously current M5.
This time around there's 'only' a 4.4-litre V8 stashed under the bonnet, but the awesome power delivery of the twin turbocharged engine, electrifying speed of the DCT gearbox and the introduction of torque-vectoring has massively improved performance and driveability. In fact it's reported that the latest model will lap the Nurburgring in 7 minutes 55 seconds – nearly 20 seconds faster than the V10-powered E60.
0-62mph is delivered in a claimed 4.4 seconds on the road, while on the unrestricted autobahn BMW reckons 190mph is on the cards. Who needs a V10 anyway…
Production: Current (2011- )
Engine: 4.4-litre, V8
BHP: 552bhp
0-62mph: 4.4 seconds
Max Speed: 155mph
Click the links below or at the top left of this page to discover more about the top 10 best BMW M cars...