BMW M5 F10 - Best BMW M cars
The F10 M5 moved from V10 to V8 power, proving that downsizing isn't all bad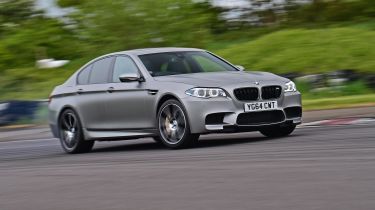 A high-revving V10 was always going to be a tough act to follow, but BMW's M division responded to the inevitable pressures to improve efficiency with the equally stupendously F10 M5.
This time around there was 'only' a 4.4-litre V8 stashed under the bonnet, but the awesome power delivery of the twin turbocharged engine, electrifying speed of the DCT gearbox and the introduction of torque-vectoring massively improved performance and driveability. In fact it's reported that the car will lap the Nurburgring in 7 minutes 55 seconds – nearly 20 seconds faster than the V10-powered E60 M5.
0-62mph is delivered in a claimed 4.4 seconds on the road, while on the unrestricted autobahn BMW reckons 190mph is on the cards. Who needs a V10 anyway…
BMW F10 M5 specs
Production: 2011-2016
Engine: 4.4-litre, V8
BHP: 552bhp
0-62mph: 4.4 seconds
Top speed: 155mph
What's the BMW F10 M5 30 Jahre Edition like to drive? 
Steve Sutcliffe tries it out on track
The F10 M5 was the epitome of technical perfection when it came out in 2011 – the same year as the 1M, incredibly. I remember driving this car on its international launch in Spain, thinking it was deeply impressive but also felt oddly aloof. Not quite emotionless, but clearly a machine that was led and therefore defined by its technology.
It was also the first turbocharged M car, and the first M5 to use a dual-clutch auto, plus it weighed two tonnes-plus with a driver on board. So even though it was the first M5 to do a sub-eight-minute Nürburgring lap, it felt more like an M7 than it did an M5, and nothing much has changed since. 
You respect the F10 for what it can do – for its broad repertoire, for its sophisticated and refined cabin, and because is it very rapid indeed. This 30 Jahre Edition has 592bhp and 700Nm from its twin-turbo 4.4-litre V8. Uncorked it could probably top 200mph with four people on board, without feeling overly dramatic. But by a long chalk it is not the most memorable M5; it's a bit too cool for school for that.
F10 M5 30 Jahre Edition (2011) prices and specs
Price new: £91,890
Value now: £48,000
Engine: 4.4-litre twin-turbo V8
Power/torque: 592bhp/700Nm
0-62mph: 3.9 seconds 
Top speed: 155mph
Gearbox: Seven-speed DCT 
Weight: 1,990kg