BMW M635 CSi E24 - Best BMW M cars
The shark nose M635i exudes retro charm today but still packs a mighty punch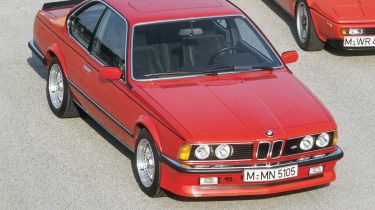 A generation of enthusiasts were already lusting after the uber-cool coupe lines of the shark-nosed 635 CSi when BMW introduced the M version. Out went the standard CSi's 215bhp M30 straight six, and in went a 282bhp version of the M1 supercar's M88 unit. Coupled with a five-speed gearbox and limited slip diff, the car's bulk and weight limited maximum speed to 158mph and 0-60mph acceleration to 6.4 seconds – neither figure would raise an eyebrow now.
But back in its heyday, M635i CSi was the ultimate expression of 1980s automotive aspiration, thanks to old-school stylistic delights like that black rubber boot spoiler. Unsurprisingly the M635 CSi is significantly in demand by collectors today.
Production: 4,088 (1983-1988)
Engine: 3.5-litre, six-cylinder
BHP: 282bhp
0-62mph: 6.4 seconds
Max Speed: 158mph
Click the links below or at the top left of this page to discover more about the top 10 best BMW M cars...