BMW M635 CSi E24 - Best BMW M cars
The shark nose M635 CSi exudes retro charm today but still packs a mighty punch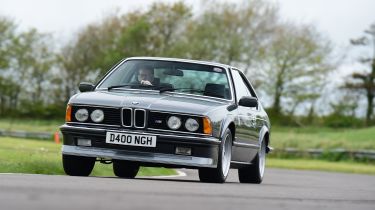 Powered by the same 3.5-litre straight-six as the M1, but with fuel injection and, therefore, a touch more power, the 286bhp M635 CSi first appeared in 1984, when Filofaxes were the things to be seen carrying and mobile phones had yet to be invented for the masses. It was the era of big hair and wide shoulder pads, which meant a suave-looking coupe such as the M635 CSi fitted right in – if indeed you could afford to buy one. 
At £45,780 it was eye-wateringly expensive for its time, yet in the end BMW made 5,855 examples, the identically powered E28 M5 selling in far fewer numbers (2,241 in total) but gaining more credibility in the process among the M-car cognoscenti.
On the surface, it's not difficult to see why. Whereas the E28 M5 was a tautly suspended weapon of a car, and was the first genuine super-saloon, the M635 was a far softer, less aggressive, more chilled machine with packaging that would be deemed laughable today. 
What's the BMW M635i like to drive?
Steve Sutcliffe tries it out on track
To drive, it still feels relevant, even if it's ultimately a relic from a bygone age. The ride is deeply soothing, the power-steering light and accurate enough to allow you to place that big, charismatic nose with reasonable precision through any corner. It's relaxed but not remote, and its engine and five-speed manual gearbox are both an absolute delight, sweeter and more potent than those of the M1. The cleaner response of the fuel-injection system undoubtedly makes a big difference to its driveability.
Truth is, I thought the M635 CSi would feel old and irrelevant next to more modern M cars, but in the end I loved it and was once again amazed at how well it has stood the test of time.   
BMW M635 CSi  (1983-1988) specs and prices
Price new: £45,780
Value now: £20,000
Production: 5,855 (1983-1988)
Engine: 3.5-litre 6cyl
Power/torque: 286bhp/340Nm
0-62mph: 6.1 seconds 
Top speed: 158mph
Gearbox: Five-speed manual
Weight: 1,450kg