BMW M3 G80 - Best BMW M cars
The G80 M3 offers huge performance and a massive technology count to go with its grille of epic proportions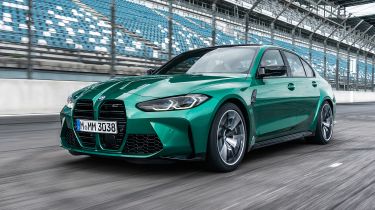 BMW has always pushed against the limits of performance and driver involvement with its M cars so it's no real surprise that the G80 M3 is close to the state of the art. Returning to the in-line six-cylinder engine, it offers 503bhp delivered through a quick-shifting 8-speed M Steptronic gearbox. Rear- and four-wheel-drive variants provide an interesting choice between exhilaration and capability and the giant grille is so much less obvious when the M3 is going sideways.
What's the BMW G80 M3 like to drive?
Steve Sutcliffe tries it out on track
The G80 M3 xDrive manages to combine huge technical capabilities with a serious hit of old-fashioned driver appeal thrown in for good measure. As a result, it probably represents a pinnacle of achievement for the M division. In many ways it's the most rounded car yet produced, combining massive speed, a great four-wheel-drive chassis and vast amounts of safety and communications tech with a genuine dose of raw driver satisfaction.
Its electric power steering isn't all that much compared with most of its predecessors here, and it weighs a seemingly ludicrous 1,780kg – that makes it an entire Caterham heavier than the first M3. In these respects, 50 years of evolution have done the BMW M car few favours.
But overall, the progress of the M division through the decades is genuinely astonishing, and in the M3 xDrive the results (crazy kerbweight aside) really do speak for themselves. This is an incredible car that can do all kinds of incredible things, but at its core it's still a seriously fun and engaging machine to drive. One that invites you to enjoy it – just like its best predecessors.
G80 M3 Competition xDrive specs and prices
Price new: £78,425Engine: 3.0-litre twin-turbo 6cyl Power/torque: 503bhp/650Nm0-62mph: 3.5 seconds Top speed: 155mph Gearbox: Eight-speed auto Weight: 1,780kg