BMW M5 E60/E61 Touring - Best BMW M cars
M car estates are a rare breed but the E61 M5 Touring has an F1-inspired V10 engine to make it well worth seeking out and the E60 saloon wasn't bad either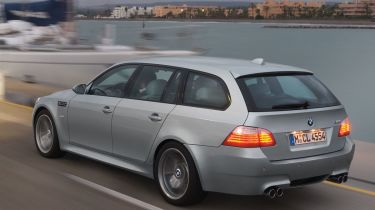 Come on… you always wanted a paddle-shift equipped estate car with a 5.0-litre V10 making 500+bhp and almost 8,000rpm. And with the E61 M5 Touring, that's what BMW delivered.
If the engine choice seems faintly ludicrous in this era of down-sizing and multiple turbos, back in the early 'noughties it obviously seemed sensible to develop an M car with an obvious link to the BMW Sauber F1 car. Ironically V10s left the F1 stage in 2006 due to an efficiency drive, but that wasn't going to stop the M5's party – and anyway, in reality the road-going V10 had nothing at all in common with the F1 engine. Apart from a stupendous turn of speed, of course, with some testers of the E60 saloon version quoting figures around the 4-second mark for the 0-60mph sprint.
What's the BMW E60 M5 like to drive? 
Steve Sutcliffe tries it out on track
I thought the E60 M5 was  fantastic in 2005 but reckon hasn't aged terribly well since. All the ingredients for greatness are there. It has a 5.0-litre V10 engine with a monster soundtrack that delivers either 400bhp or an insanely aggressive 500bhp, depending which mode you select. And then there's the theoretically fast-changing six-speed SMG gearbox with another button that allows you to scroll up through the shift speeds, plus a typically well developed rear-drive chassis, again with numerous modes than can be dialled up or down, depending what kind of mood you're in.
But for a variety of reasons, the E60 now seems quite cumbersome and not especially sharp. To be honest, it feels compromised by its technology, not improved by it, with the gearbox action even worse these days than it was 17 years ago, mainly because so many excellent automatic transmissions have appeared since. Amazingly, the car also doesn't feel that quick, not beside the likes of the G80 M3 or the F10 M5 that followed it, nor even the Z3 M Coupe.
Either way, the E60 M5 was disappointing to drive – possibly because I'd been so looking forward to reacquainting myself with it, and possibly because I was expecting too much from it.  
BMW E60 M5  prices and specs
Number built: 20,589 (1,025 Touring models)
Price new: £65,330
Value now: £20,000
Engine: 5.0-litre V10
Power/torque: 500bhp/520Nm
0-62mph: 4.7sec Top speed: 155mph
Gearbox: Six-speed SMG
Weight: 1,855kg