BMW M5 Touring E61 - Best BMW M cars
M car estates are a rare breed but the E61 M5 Touring has an F1-inspired V10 engine to make it well worth seeking out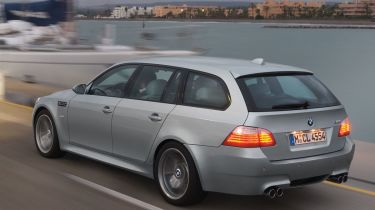 Come on… you always wanted a paddle-shift equipped estate car with a 5.0-litre V10 making 500+bhp and almost 8,000rpm. And with the E61 M5 Touring, that's what BMW delivered.
If the engine choice seems faintly ludicrous in this era of down-sizing and multiple turbos, back in the early 'noughties it obviously seemed sensible to develop an M car with an obvious link to the BMW Sauber F1 car. Ironically V10s left the F1 stage in 2006 due to an efficiency drive, but that wasn't going to stop the M5's party – and anyway, in reality the road-going V10 had nothing at all in common with the F1 engine. Apart from a stupendous turn of speed, of course, with some testers of the E60 saloon version quoting figures around the 4-second mark for the 0-60mph sprint.
Production: 1,025 (2007-2010)
Engine: 5.0-litre, V10
BHP: 500bhp
0-62mph: 4.8 seconds
Max Speed: 155mph
Click the links below or at the top left of this page to discover more about the top 10 best BMW M cars...