BMW M5 E28 - Best BMW M cars
The mighty BMW M5 E28 remains one of the finest performance saloons ever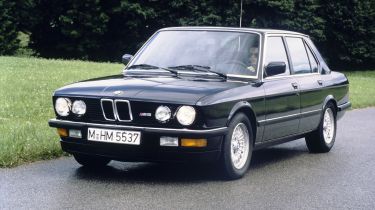 The first of the M5 high-performance saloons, and for many BMW purists the best. When launched in 1985, the E28 M5 was the fastest four-door car on sale – which considering its top speed was 156mph seems somewhat surprising in our power-crazed era. But a Ferrari 328 from the same era had less power (and was only moderately more pricey), which puts the E28 M5 into perspective.
In spite of its understated styling the car was a thoroughbred under the skin, using a version of the 3.5-litre straight six developed from the engine in the M1 supercar.
The E34 M5 saloon followed on and kept the spicy recipe alive, and neither the E39 or F10 versions of the M5 that also make this list would have happened without the E28 M car.
Production: 2,191 (1985-1988)
Engine: 3.5-litre, six-cylinder
BHP: 282bhp
0-62mph: 6.1 seconds
Max speed: 156mph