BMW M3 E30 - Best BMW M cars
Hailed as one of the best-handling cars ever, the original M3 is a nailed-on classic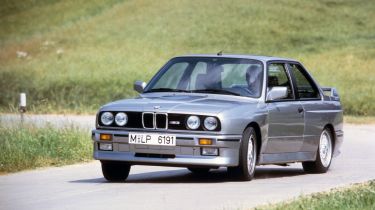 With 300bhp in race trim, and close to 200bhp for the road-going homologation version, the BMW E30 M3 arrived just in time for the 1980s yuppie generation to idolise and aspire to. But the E30 M3 was far more than a status symbol for city boys. It was re-engineered by M Division from nose to tail, with unique body panels, lightweight and uprated suspension parts, a race-ready gearbox and limited slip diff, plus a normally-aspirated 2.3-litre engine that begged to be red-lined. Subsequent 'Evo' versions were more lary still, and the legend of this race-homologated road car has never faded.
Production: 16,202 (1985-1992)
Engine: 2.3/2.5-litre, four-cylinder
BHP: 192-235bhp
0-60: 6.1 seconds
Max Speed: 155mph
Click the links below or at the top left of this page to discover more about the top 10 best BMW M cars...