BMW M1 - Best BMW M cars
The M1 was a racing supercar for the road, and still sets pulses racing today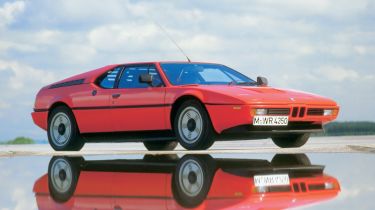 BMW made fewer than 500 copies of the fabulously exotic for its time M1 supercar, and they're incredibly sought after today.
The mid-engined M1 was only in production from 1978 to 1981, but with the help of a one make race series it soon became the stuff of legend – although not always in a good way, as the racing project was mired in misfortune.
Still, the car looked genuinely fantastic thanks to stunning Guigiaro designed bodywork, and its style alone would have been enough to guarantee the BMW M1 a place in the automotive hall of fame.
It's engine was a 3.5-litre unit straight six which is small fry compared to the multi-cylinder monsters we're used to in modern times, but who cares if 273bhp and 162mph in a road car is hot hatch territory today?
In its hey-day, the BMW was absolutely a hero car, and for many BMW M fans it still is.
Production: 453 (1978-1981)
Engine: 3.5-litre, six-cylinder
BHP (road spec): 273bhp
0-60: 5.5 seconds
Max Speed: 162mph
Click the links below or at the top left of this page to discover more about the top 10 best BMW M cars...