BMW M5 E39 - Best BMW M cars
The E39 BMW M5 was the car that started the German saloon horsepower war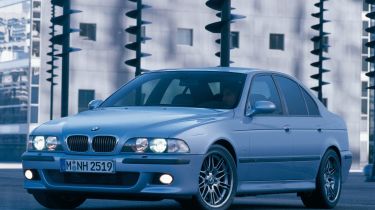 While the previous E34 version of the M5 was powered by a straight-six making around 305bhp, its replacement arrived in 1998 accompanied by the rumble of V8 thunder. With close to 400bhp on tap, the new M5 offered comfortably sub-5 second 0-60 times and – with the electronic speed limiter unhooked – was widely reported to be able to crack the magic 300km/h (186mph) mark on the autobahns of Germany.
And who didn't love those uber-cool 'Corona ring' incandescent headlamps introduced for the 2001 facelift? 
What's the E39 M5 like to drive? 
Steve Sutcliffe tries it out on track
I bought and ran an E39 M5 in the early 2000s, and I absolutely loved it. It had such a broad repertoire I ended up thinking it was all the car anyone could ever want, with an easy-going 400bhp from its creamy 4.9-litre V8 engine, a great six-speed manual gearbox, exploitable but refined handling and a lovely interior. In 1998 it was expensive at £52,000, but it was worth the price because it was so much car.
Today, it still drives well, if not quite at the cutting edge beside its more modern M5 cousins – although, having said that, I think it's stood the test of time better overall than the E60 M5 (the one with the V10 engine and the not-very-good SMG gearbox) that followed it. What I liked most about the E39 back then, and still do now, is its effortless potency.
It doesn't look all that much, but even today it still goes very hard indeed in the mid-range. Its cabin still feels relatively modern, even though it's almost quarter of a century old now, and its chassis has an honest simplicity to it that doesn't need a whole load of different drive modes to adjust to unlock its best secrets. Instead, you just climb in, fire up, maybe press the Sport button if you fancy a bit more urgency from the engine map, and off you go. It was lovely when new – and for £20,000 it is even more lovely today.
E39 M5 (1999-2003) prices and specs
Price new: £52,000
Value now: £20,000
Production: 20,482 (1999-2003)
Engine: 4.9-litre V8 
Power/torque: 395bhp/500Nm
0-62mph: 4.9 seconds
Top speed: 155mph
Gearbox: Six-speed manual
Weight: 1,795kg