BMW E92 M3 GTS - Best BMW M cars
Huge performance came at a huge cost but the M3 GTS remains one of the most focused M cars to be let out of the box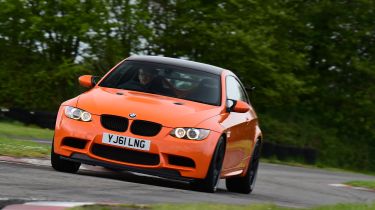 BMW launched the E92 BMW M3 Coupe in 2007 and the car was joined in 2008 by the E90 Saloon and the E93 Convertible - the first M3 convertible since the E36 iteration. The V8 powerplant in this fourth generation M3 replaced the iconic in-line six format that had served the mode line so well. By way of consolation it revved to 8,300rpm, delivered 414bhp and pumped out 400Nm of torque through a seven-speed dual-clutch M DKG transmission.
The E92 M3 was a technological marvel at the time but the best was yet to come when BMW launched the limited edition M3 GTS.   
What's the BMW M3 GTS like to drive? 
Steve Sutcliffe tries it out on track
The uber-rare V8 GTS seemed ridiculously expensive at £118k in 2009 and, I thought, just wasn't as special as it should have been to drive. Not beside Porsche's then-cheaper 911 GT3 RS, at any rate. But time has been kind to the GTS, and it feels utterly addictive in 2022.
With a higher-revving 4.4-litre version of the E92 M3's 4.0-litre V8 linked to what is still a sharp-shifting seven-speed dual-clutch 'box, the GTS goes like the proverbial you-know-what in a straight line, and the sound it makes is downright rude. But its steering, chassis and brakes define it as something above and beyond the norm, even by M-car standards. As does the stripped-out, zero-frills interior with its bucket seats and full racing harness, both of which would be a pain to live with everyday but, just to use on special occasions, lift the GTS experience to another level.
All it takes is one committed lap in this car, assuming its drivetrain and Cup tyres are up to temperature (and if they're not, don't even think about giving it the full beans) and you will be either completely hooked or slightly terrified. That's the kind of car the GTS is. So even though it's 13 years old now, it allows you to do things on a track that in most other models, G80 M3 included, you can't even contemplate trying. It's essentially a racing machine with number plates, much like the E30 M3 was originally. Yet, unlike the E30 it still feels modern, relevant and virtually untouchable dynamically. 
BMW E92 M3 GTS specs and prices
Number built: 150 (15 for UK)
Price new: £117,630
Value now: £180,000
Engine: 4.4-litre V8 
Power/torque: 444bhp/440Nm
0-62mph: 4.4 seconds 
Top speed: 190mph
Gearbox: Seven-speed DCT dual-clutch 
Weight: 1,580kg