BMW Z3 M Coupe - Best BMW M cars
The M Coupe is unlike any M car before or since and it still holds a place in the hearts of many fans, while others can't stand the sight of it.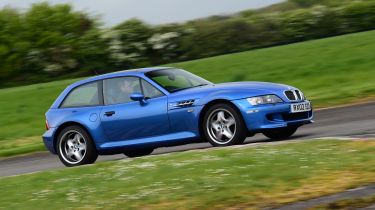 The M Coupe came into being in 1997, a car that shocked and divided opinion from the off. Based on the Z3 roadster of the day it featured the most powerful version of the BMW M straight-six to date and packaged it in a compact, lightweight body that was instantly recognisable then and still is today. The 317bhp unit revved to 7,400rpm and coils see the M Coupe to 62mph in 5.4s.  
What's the BMW M Coupe like to drive? 
Steve Sutcliffe tries it out on track
I remember the Z3 M Coupe as being a wild, but not especially wonderful car to drive. Yes, it boasted a great six-cylinder engine beneath its long bonnet, but it also had a cramped and claustrophobic cabin and a surprisingly wayward chassis. 
In fact, the Z3 M was far better to drive than I was expecting, and far quicker than I recall, too. It proves that when you have a mere 1,420kg to propel, 321bhp from a high-revving, atmospheric straight-six engine is all you need and then some, thanks – especially when linked to a sweet shifting five-speed manual gearbox. 
You put up with the movement around the tail in the Z3 M, and instead just hang on tight while wearing a huge grin for most of the time. Truth is, I enjoyed driving this model about five times more than I thought I was going to. In a weird kind of way, it felt more relevant and interesting now than it did when new in 1998, possibly because cars have become so much more predictable since.
BMW Z3 M Coupe prices and specs
Number built: 6,291
Price new: £35,845
Value now: £40,000 
Engine: 3.2-litre 6cyl 
Power/torque: 316bhp then 321bhp from 2001/350Nm
0-62mph: 5.1 seconds Top speed: 155mph
Gearbox: Five-speed manual
Weight: 1,420kg