Ferrari F40 - Best Ferraris ever
The F40 was designed to celebrate 40 years of Ferrari, and is hugely desirable today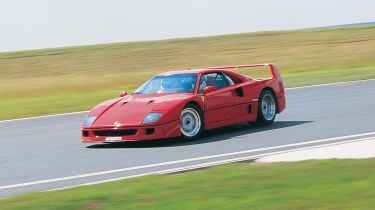 Years: 1987-1992Engine: 2.9-litre twin-turbo V8, 471bhpTransmission: Five-speed manual, rear-wheel driveTop speed: 201mphNumber built: 1,311Current value: £1.2million
The Ferrari F40 is a car that has gone down in the history of the motor car as one of the greatest supercars of all time. It can trace its roots back to the Ferrari 308 of the early 1980s, although it's a very different beast to that car. Its predecessor, the 288 GTO, was designed to Group B regulations with the intention of developing it for circuit racing. But once Ferrari saw the popularity of this car with buyers, and after the cancellation of the Group B rules, it decided that the next model should be an exclusive roadgoing supercar.
The F40 was designed to celebrate 40 years of Ferrari, and it just happens to be the final car to be approved by Enzo Ferrari before his death in 1988. Under the skin, it used a twin-turbo V8 developed from the 288 GTO that made 471bhp, and Ferrari claimed the F40 had a top speed just over 200mph. The bodywork is made from a mix of kevlar, carbon fibre and aluminium to save weight, while the stripped-out interior featured air-conditioning as its sole luxury.
On the road the F40 delivers explosive straight-line performance thanks to its light 1,400kg kerbweight, but the tubular chassis was fairly primitive when compared to rival models like the Porsche 959, and it's not the most involving Ferrari to drive. Independent tests never saw the F40 break 200mph barrier, but the car's reputation had already been established, with speculators asking up to £10million for the car when it was new.
Buyers lapped it up in their droves as it was the ultimate Ferrari supercar, and it continues to hold an allure that no other model can match. While 400 were planned to be built, more than 1,300 left the factory in five years of production. Today, you'll need at least £1million to get one in your garage.