Ferrari 365 GTB/4 Daytona - Best Ferraris ever
The Daytona stuck to tradition but wrapped it in an angular body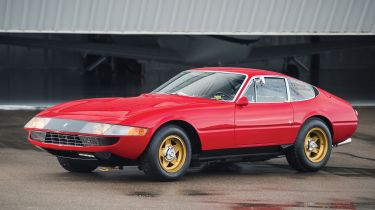 Years: 1968-1973Engine: 4.4-litre V12, 352bhpTransmission: Five-speed manual, rear-wheel driveTop speed: 174mphNumber built: 1,406Current value: £650,000
Enzo Ferrari was a man who liked to stick with tradition. In Formula One, it took the Scuderia two years to cotton on that mid-engined cars were the way to win races, and it took even longer for Ferrari to produce a mid-engined production car. While arch-rival Lamborghini produced the Miura in 1966, the new-for 1968 Ferrari 365 GTB/4 Daytona stuck with a traditional front-engine, rear-drive layout.
But while the 365 was resolutely old-school in its layout, it featured a radical new look, courtesy of Pininfarina. The old V12 sports cars of the past had flowing lines, the 365 GTB/4 featured straight edges and wedge-shaped front end. Early cars had fixed lights behind perspex, but US regulations saw these replaced by pop-up headlights on later models. It was such a stunning look, that British firm Rover took inspiration from the Daytona when it came to designing the SD1 family car, and the similarities between the two are clear to see, even if performance, or even build quality, failed to match.
The long, flat bonnet covered a 4.4-litre version of the Colombo V12 that had been in use since 1947, and with over 350bhp on tap, the newcomer had a claimed top speed of 174mph. The Daytona saw competition in the early 1970s, with 15 lightweight aluminium and fibreglass-bodied versions built for customer teams to compete in endurance racing. They were particularly successful in the Le Mans 24 Hours, earning class victories for four years on the trot from 1971 onwards.
In later years, the Daytona gained a bit of a cult following when a black drop-top Daytona Spyder was used in US cop drama Miami Vice. However, the car used was a kit based on a Corvette, which Ferrari wasn't pleased about - so for the third series, the Daytona was replaced by an officially supplied white Testarossa.
The Daytona name is claimed to have come about by accident. Ferrari hardly ever calls the 365 GTB/4 by that name, and it's said to be a reference to Ferrari's 1-2-3 finish in the Daytona 24 Hours the year before. Still, the Daytona is one of the most desirable Ferrari sports cars, and with just over 1,400 built in five years - including only 122 of the hugely desirable GTS/4 spyders - and is considered the high point of front-engined Ferrari supercars.