Ferrari 250 GTO - Best Ferraris ever
Rarity and motorsport success means the 250 GTO is one of the most desirable Ferraris of all time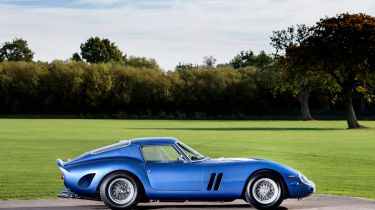 Years: 1962-1964Engine: 3.0-litre V12, 300bhpTransmission: Five-speed manual, rear-wheel driveTop speed: 175mph (est)Number built: 39Current value: £30million
No Ferrari holds as much mystique as the 250 GTO. While the 250 Testa Rossa now rivals it for value on the auction circuit, the GTO is the closest you can get to a roadgoing Ferrari that, at the time of its production, could simply arrive at a race circuit and be a front runner in sports car racing.
The GTO is the ultimate development of Ferrari's 250 series of sports cars, and in turn it was derived from another successful Ferrari racing car, the 250 GT SWB. That model had a shorter wheelbase than the standard 250 GT to improve its handling, while the GTO added new aerodynamic bodywork to help it compete against rival sports cars such as the Shelby Cobra and Jaguar E-Type Lightweight.
Under the skin, the 250 GTO used a fairly traditional chassis and suspension set-up, albeit one that was well proven, and featured a tubular frame, disc brakes and a live rear axle. Power came from the same 3.0-litre V12 used in the Le Mans 24 Hours-winning 250 Testa Rossa, and had 300bhp on tap, which was on a par with the E-Type Lightweight. The 250 GTO proved to be a front-runner throughout its competition life, winning the large-capacity GT world championship in 1962, 1963 and 1964.
One part of the 250 GTOs mystique is the limited number of cars that were built. In 1962, motorsport governing body the FIA required 100 examples of a car to be built to qualify for GT racing. But Enzo Ferrari bypassed these regs by giving his 250 GTOs non-consecutive chassis numbers and moving them around to make it look like there were more cars than there really were. In the end, just 39 250 GTOs were built, and buyers were personally vetted by Enzo to see if they were suitable owners.
The limited production run, combined with a strong competition history means the 250 GTO is arguably the most desirable Ferrari of all-time. When new, the 250 GTO cost $18,500, which was a lot of money, but in 1965, just after the car bowed out of front line competition, you could have bought one for $4,000, the equivalent of £20,000 in today's money. It was only in the 1970s and 1980s that prices began to rise, and they went astronomical in the 1990s. The 250 GTO now easily fetches over $30million, and that's a figure that's unlikely to change, even if the current classic car market falls flat.