Ferrari F355 - Best Ferraris ever
Elegant lines and a screaming V8 made the F355 the most desirable Ferrari of the 1990s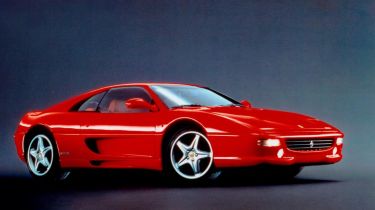 Years: 1994-1999Engine: 3.5-litre V8, 375bhpTransmission: Six-speed manual or six-speed electrohydraulic clutch auto, rear-wheel driveTop speed: 183mphNumber built: 11,273Current value: £63,000-£135,000
If the F40 was the ultimate incarnation of the 308/328 bloodline, then the F355 was the last model to use the familiar silhouette of this series of mid-engined sports cars. With simple lines penned by Ferrari's most popular design house, Pininfarina, the F355 is arguably one of the most elegant sports cars the firm has ever built.
It followed in the footsteps of the Ferrari 348, which featured styling cues from the larger Testarossa. This featured side strakes in the doors and a slatted engine cover, and yet more slats covered the tail-lights. The F355 simplified things by getting rid of all the slats in favour of gaping air intakes, which fed cold air to the naturally aspirated V8 mounted behind the cockpit. The flying buttress design gave it a sporty profile, while the wide rear end and squat stance gave it head-turning looks.
The engine was a development of the 348's V8, bored out to 3.5-litres, while the a five valve per cylinder head was bolted to each bank, hence the F355 name. Add in a flat-plane crankshaft that gave the car a distinct engine note, and peak torque made at a heady 8,250rpm, and the F355 was a car that needed its neck wrung to make the most of its performance.
The six-speed manual is the model of choice, because while the F355 F1 featured an electrohydraulic clutch and race car-inspired paddleshifters, this single clutch auto isn't the crispest performer. Other options included a convertible F355 Spider - the first Ferrari convertible to include electric operation in its folding roof - and the F355 GTS, which was a targa-topped version of the standard Berlinetta.