Ferrari 488 GTB - Best Ferraris ever
Current mid-engined flagship uses turbos and tech to deliver a thrill ride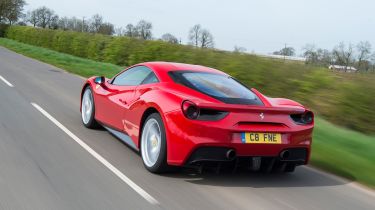 Years: 2015-presentEngine: 3.9-litre twin-turbo V8, 661bhpTransmission: Seven-speed dual clutch, rear-wheel driveTop speed: 205mphNumber built: Still in productionCurrent value: £184,000
In the past, Ferrari's road cars have had some sort of connection with their racing counterparts. In the 1950s and 1960s the link was obvious, as the road cars largely used the same V12 engine as the racers. But over the years, the road and race connection has been lost, especially when it comes to Ferrari's Formula One machines. Today, however, there are a couple of connections between F1 and Ferrari's latest 'small' model, the 488 GTB.
First, the 488 GTB features a raft of electronics, just like the F1 cars, and it also gets turbo power. Of course, there are big differences between the hi-tech 1.6-litre V6 hybrid unit used in Ferrari's current F1 car and the 3.9-litre twin-turbo V8 in the 488, but with 661bhp on tap, the GTB is a serious roadgoing performance car.
The raft of electronics on board are designed to make the most of the car's potential. A graphic on the dashboard shows when the engine, tyres and brakes are all up to optimum working temperature, while the rotary Manettino switch on the steering wheel selects from a number of preset driving modes, depending on road or track conditions.
Whichever setting you choose, the 488 GTB delivers a thrilling driving experience. The super-fast steering rack needs barely any input to point the nose where you want to go, while the twin-turbo V8 has huge reserves of power that are easily accessible thanks to the lightning-fast shifts of the seven-speed paddleshift gearbox. The V8 isn't quite as vocal as the naturally aspirated engine in its predecessor, the 458 Italia, but the GTB still delivers a spine-tingling experience, and is arguably the best road car that Ferrari has ever built.