BMW M135i vs Subaru WRX STi 320R
Storming new 316bhp BMW M135i takes on the muscular four-wheel-drive Subaru WRX STi. Which is more fun?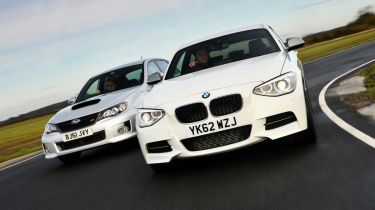 The latest BMW 1 Series has enjoyed a winning start to life, taking numerous road test victories and being crowned Best Compact Family Car at our New Car Awards 2012. So a version that's been tweaked by the legendary Motorsport division is sure to shine.
The M135i has a mighty twin-scroll turbo engine and uprated rear-wheel-drive chassis, and promises to be the hottest hatch money can buy. Yet it's more expensive and powerful than traditional pocket rocket rivals, with prices starting at £29,995 for a 316bhp three-door manual model.
In fact, in terms of muscle, the BMW is level-pegging with the World Rally Championship-inspired Subaru WRX STi 320R. A recent range shake-up means the previously pricey 4WD machine now undercuts the 1 Series, while a choice of four and five-door bodystyles means there should be a Subaru to suit everyone. Which of our high-performance contenders will emerge victorious from this bruising encounter?
Verdict
On paper, our dynamic duo are evenly matched. As our spec sheet shows, there's nothing between them in terms of power, performance and kit.
Yet in the final reckoning the BMW takes a convincing win. Its brilliant engine delivers breathtaking performance, while the beautifully balanced chassis makes it huge fun to hustle along twisting back roads. But it's the M135i's ability to mix sharp driving dynamics with everyday usability that really impresses. From its comfortable and well appointed cabin to its excellent refinement and decent ride, the BMW can be every bit as sensible as a 1 Series diesel, while in five-door guise it's reasonably practical, too.
Go for the manual gearbox and it's not that much more expensive to buy – although the eight-speed automatic is so good that it's worth the extra outlay. Running costs with either transmission will be lower than for its rival here.
The Subaru shouldn't be overlooked, though. When you're in the mood it's great fun to drive, plus the recent price cut makes it something of a bargain. And when the weather turns nasty, there are few performance cars that are as reassuring from behind the wheel.
However, on this occasion the WRX STi is simply outclassed by the brilliant BMW.