BMW 218i Active Tourer review
We drive BMW's front-wheel-drive MPV in 3-cylinder 218i guise. How good it the Active Tourer?
BMW is exploring a whole new area of the market with the 2 Series Active Tourer, and expecting 75 per cent of its buyers will be new to the brand. Those customers certainly won't be disappointed and although the diesel will be the big seller, the 218i fixes those small refinement issues while continuing to offer great levels of comfort, practicality and efficiency.
It's been a hectic year for BMW. First up was the electric i3, then a turbocharged M3 and now, making it a hat-trick of firsts from the German brand, is the front-wheel drive 2 Series Active Tourer.
Not only is it the first ever front-wheel drive BMW, it's also the manufacturer's first model to be powered solely by a three-cylinder engine. We've driven the 218i in the UK for the first time, so does it fit the bill for demanding family life?
Proportionally, the 2 Series Active Tourer shares a similar footprint to the 1 Series, albeit 20mm longer. It's also 10mm taller than the baby X1 SUV and offers around the same amount of interior space as a 3 Series Touring. Boot capacity stands at 468 litres – slightly less than you get in a Mercedes B-Class – but folding the seats flat frees up 1,510 litres of space.
More reviews for 2 Series Active Tourer
There are more practical offerings currently in the MPV market, such as the Citroen C4 Picasso and VW Golf SV but neither delivers the premium passenger environment of the BMW. While boot capacity may be down over rivals, there's still a generous amount of interior passenger space. Head and leg room is impressive, with three adults able to sit across the rear bench comfortably.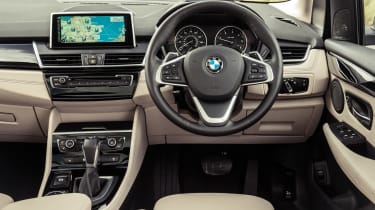 Fitted with the same 1.5-litre three-cylinder turbocharged petrol engine you'll also find in the new MINI Cooper, BMW claims 0-62mph in 9.2 seconds while returning 57.6 mpg and emitting 115g/km of CO2. That's slightly down on the more frugal diesel, which is capable of 68.8mpg and 109g/km.
But the 218i manages to claw itself back into contention with a £2,080 cost saving over the equivalent diesel model. Opt for the three-cylinder petrol engine and you'll also resolve some of the refinement issues associated with diesel powered models. At idle and at cruising speeds, the 218i remains muted and refined, whereas the diesel is accompanied with a rather intrusive drone from the engine which never really settles.
Although this car's primary focus is transporting families efficiently and safely, there's also a fair amount of fun to be had in the 2 Series Active Tourer. It may not be the 'Ultimate Driving Machine' but for a high-sided MPV the 2 Series is rather agile and responsive. The steering has a manageable weight to it so you can point the 2 Series down a B-road and receive precise feedback, while around town it's not too heavy to manoeuvre quickly. Body control is also impressive, with quick changes in direction executed precisely. There's no question these feats have been achieved by the use of the UKL1 platform, which underpins the new MINI.
A six-speed manual gearbox comes as standard, which like most BMW transmissions is short and accurate if a little notchy. A six-speed auto is available for a £1,250 premium, however.
Standard kit across the line-up includes dual-zone climate control, automatic tailgate and rear parking sensors. Our Sport spec test car adds £1,250 to price tag but adds contoured seats and 17-inch sports alloy wheels and LED ambient lighting.