BMW 3 Series GT vs rivals
The BMW 3 GT offers exec style in a hatch. We test it against its rivals from Audi and Citroen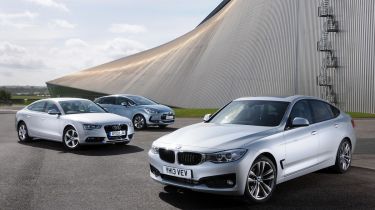 Smart design can make even the most traditional objects stand out. The stunning museum structure at RAF Cosford in Shropshire proves that an aircraft hangar can be more than a big box. In a similar vein, manufacturers have finally spiced up the compact executive sector, offering alternatives to the three-box saloon shape that's dominated the class for decades.
The latest arrival is the BMW 3 Series Gran Turismo, which blends hatchback practicality and exec car cabin space with an upmarket image and remarkably low running costs. Audi has offered a swanky alternative to the A4 saloon since 2009, with its coupe-inspired A5 Sportback.
Yet the most adventurous car in this expanding sector is the bold DS5, which attempts to reignite Citroen's reputation for cutting-edge design and luxury. So which of our compact executive saloon alternatives stands out most?
Verdict
With a class-leading saloon and hugely accomplished Touring estate, BMW already has a strong 3 Series line-up. However, the new Gran Turismo is a worthy addition.
This range-topping version is expensive, but it offers passenger comfort to rival BMW's larger 5 Series and has a bigger luggage area than the 3 Series Touring. Its styling is more resolved than that of the bigger 5 GT, too, while the extra exclusivity will help you stand out from the compact executive masses.
Also, despite its additional weight and bigger dimensions, the new car largely drives like any other 3 Series, while low emissions make it a good company choice.
Still, the Audi A5 Sportback comes a close second. It's not quite as practical, but it looks great and is good to drive. Only a firm ride and slightly dated cabin styling hold it back. Unfortunately, the DS5 is outclassed across the board, and finishes third by some margin.