Car hunter: Large family saloons
Our reader has £350 a month to spend on a Ford Mondeo-sized saloon
Dear Chris,I'm after a new car and am considering a Ford Mondeo-sized saloon. But I don't want to pay over £350 a month on finance. Any suggestions?Simon Hanley, E-mail
If you'd like help choosing your next car, contact chris_ebbs@dennis.co.uk.
The best buys:
The top value buy: Kia Optima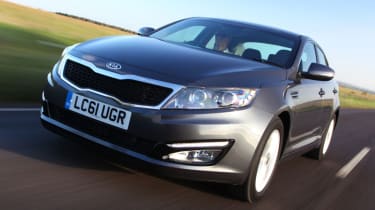 For: Lots of equipment, stylish looksAgainst: Awkward boot, firm ride
Kia's entry in the four-door saloon market is a spacious and good-looking car. The Optima shares components with the Hyundai i40, but is the more attractive option, while a longer wheelbase also means excellent rear legroom. The boot is sizeable at 505 litres, yet tricky to load due to a high lip and awkward-shaped opening.
Kia currently has a 4.99 per cent APR personal contract plan (PCP) deal on 134bhp 1.7-litre Optima CRDi diesels in 1 spec. Put down a £4,154 deposit, and you'll pay £330 a month over 36 months, with a final payment of £5,355.
This is the enty-level model, but the 1 still has lots of kit, including USB and aux-in connections, Bluetooth, stop-start and a gearshift indictor. Plus you get the security of Kia's comprehensive seven-year warranty. The 134bhp diesel is responsive, with a decent amount of torque.
The all-rounder: Skoda Superb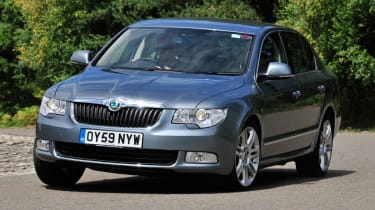 For: Masses of space, very comfortableAgainst: Uninteresting looks, dull drive
The Skoda Superb finished second in the Auto Express Driver Power 2012 satisfaction survey, which tells you all you need to know about this large family saloon. It offers masses of space, particularly for passengers in the back, while there's a vast 565-litre load capacity. The boot can be opened like a hatchback, for added practicality.
The finance outlay is determined by your choice of spec, but as an example you can get a 1.6-litre TDI GreenLine II version on a 7.6 per cent APR PCP with a £337 deposit and 35 monthly payments of the same amount. The only catch is that you'll pay a final fee of £6,434 as part of the deal.
While the Superb is a fine buy, it has a couple of flaws. The styling is rather bland, especially compared to the newer Optima, it isn't the most interesting car to drive and lower-powered engines struggle with the car's bulk.
The driver's choice: BMW 5 Series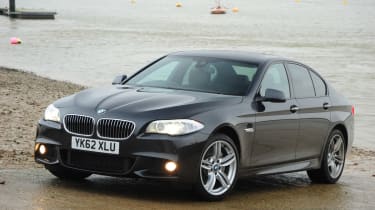 For: Great fun to drive, premium finishAgainst: Plain styling, common choice
The joy of buying on finance is that, with a top deal, you can drive away something you may think is out of reach.
Take the BMW 5 Series. Up to the end of this year, you can get a 520d SE saloon on a 3.9 per cent APR PCP deal for £339 a month over 36 months. But while the deposit is manageable at £4,950, the final payment is £11,857.
If that final price doesn't put you off, the 5 Series is a fine choice. The interior is superbly finished, while the car is also comfortable and engaging to drive. There isn't as much as space as in the Skoda, but the engine is brilliant, with plenty of pulling power and low running costs.
Again, the styling is rather mundane, especially when compared to the Optima. The 5 Series performed well in our Driver Power 2012 survey, finishing 40th, but that's some way off the Superb's excellent second place.