BMW X3 xDrive35d review
SUV has been freshened up to face Porsche Macan
It's difficult to criticise the new X3, and if it hadn't been for the arrival of Porsche's mighty Macan there's no doubting it would still be at the top of the tree. The engine in the xDrive35d is the star here, but this range-topper isn't likely to be a big seller, with BMW predicting 80 per cent of buyers will plump for the cheaper, more efficient xDrive20d instead.
With the new Porsche Macan upping the stakes in the high-performance diesel SUV market, BMW's refreshed X3 has to be better than ever. 
This xDrive35d version is the fastest and most costly X3 you can currently buy, offering 309bhp and 650Nm of torque for a rather pricey £45,395. It's marginally more expensive than the Audi SQ5 and comes in at over £2,000 more than the new class leader, the Macan S Diesel.
As before, power in the flagship X3 comes from a 309bhp 3.0-litre six-cylinder twin-turbodiesel. And despite the striking output and permanent all-wheel drive, BMW claims fuel economy of over 47mpg is still achievable – better than its rivals from Audi and Porsche.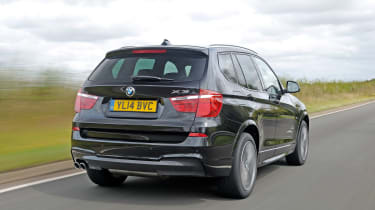 The performance on offer is simply staggering for a near-two-tonne SUV. It takes only 5.3 seconds to cover 0-62mph – that's quicker than a Porsche Boxster – and for a diesel it even sounds quite good, too. 
Tackle a bend and the X3 corners neatly with little body roll for a carwith such a high centre of gravity. The steering has a delicate precision to it and going through the various driving modes adds weight to the rack. But we found it rather elastic and artificial in Sport and Sport+ , while both modes also hold on to gears for too long before changing up in auto. While the margins are small, the Macan is more capable. 
Yet despite the ferocious performance and surprisingly agile set-up, the X3 is also a supremely refined long-distance cruiser. Set the car to Comfort and put the standard eight-speed gearbox into auto, and there really are fewer more relaxing ways to get around.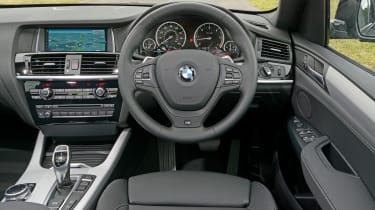 At 70mph the X3 pulls just over 1,500rpm, with only a whisper of wind noise making itself known in the cabin. Even on large 19-inch alloy wheels, which come as standard on M Sport models, the ride is supple and rarely fazed by rougher surfaces. 
Elsewhere on the refreshed X3, the front and rear bumpers have been reshaped for a cleaner look, while new circular headlights give the car a more prominent 'face'. Changes inside are even more minimal, with the arrival of a pair of redesigned cup-holders being the only new addition. 
However, that does mean quality and practicality remain unchanged, with a 550-litre boot trumping offerings from the X3's main rivals. Fold the rear seats flat and it frees up 1,600 litres.