BMW X3 diesel review
We drive the updated BMW X3 in entry-level sDrive 18d guise. Is it any good?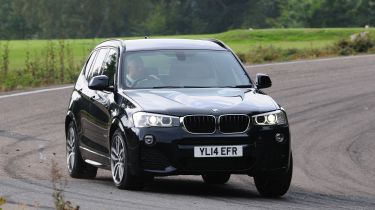 If you don't plan to take the X3 off-road at any point, the sDrive 18d model is worth considering. On public roads the loss in performance and traction is less severe than you'd think, while equipment levels are generous. With real-world economy virtually identical to the xDrive 20d, ultimately it's about the list price, which is why we'd recommend sticking with SE trim and a manual gearbox to make the absolute most of the savings on offer.
Let's face it, most BMW X3 drivers are unlikely to ever take their cars off-road – if rugged ability is a high priority a Land Rover will always be a better fit. That's why this entry-level, rear-wheel drive version of the recently updated X3 could make more sense than you think.
Badged the sDrive 18d, it uses the same 2.0-litre four-cylinder turbodiesel from BMW's new modular engine family as the best-selling X3 xDrive 20d, but detuned from 187bhp and 400Nm of torque to 148bhp and 360Nm. As a result it costs £2,000 less and it's the cleanest model in the X3 range, but not by much.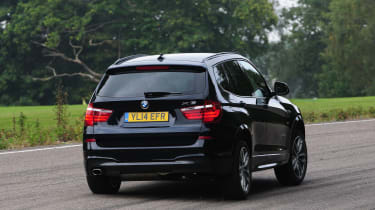 Its figures of 55.4mpg and 133g/km are only a 1.1mpg and 5g/km improvement over the four-wheel drive 20d, when both are fitted with the optional eight-speed automatic gearbox. Order the 18d with optional 17-inch aero wheels, low rolling resistance tyres and a manual 'box and consumption improves to 60.1mpg and 124g/km.
Driven back to back with the 20d you would notice the power deficit immediately, but in isolation the generous torque lets you to breeze along serenely. Only when you really put your foot down does the engine feel strangled and the refinement begins to unravel. Keep things sedate though and its quick enough for everyday duties.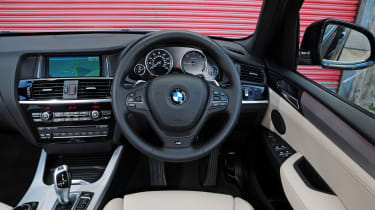 Traction, or lack of it, isn't remotely an issue on public roads either. Even in the wet, there's simply not enough power to break the rear tyre's grasp on the road surface, while the lateral grip the X3 generates in fast corners is amazing for a high-riding SUV. To make the most of its talents, we would expect paddles for the eight-speed automatic gearbox to be standard-fit, but beyond that the driving experience is definitely befitting of the BMW badge.
Don't be put-off by the 'entry-level' tag either – this is still a £30,000-plus SUV and that's reflected in the equipment count. Even in SE trim you get leather seats, climate control, 17-inch wheels and automatic headlights, plus this facelifted model now come with sat-nav, heated front seats and an auto tailgate. It's one of the most practical cars in its class too, with 40:20:40 split-folding rear seats that expand the boot space from 550-litres to 1,600-litres.
Now take a look at the best SUVs currently on the market here...