Bugatti Veyron - best hypercars
The mind-blowing Bugatti Veyron set new standards for price, performance and luxury when it arrived back in 2005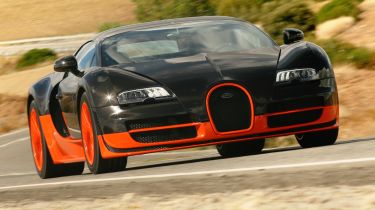 Jaw-droppingly fast, jaw-droppingly expensive and jaw-droppingly ostentatious, the Bugatti Veyron arrived on the hypercar scene in 2005. It promptly undermined the McLaren F1's reputation as top dog by smashing the 250mph barrier, while the even more 'hyper' Veyron Super Sport later went on to set a record of 267mph. A specially designed 8.0-litre W16 engine making up to 1,184bhp is responsible for the outrageous speed.
Costing a cool €1million before customers even began dipping into the customisation options, the Veyron also gained notoriety for its incredible running costs. A set of Michelin PAX tyres cost £25k, a routine service is more than £15k, and if your wheels show stress cracks after four services you'll need new ones at almost £10k a corner.
It's the reason most Bugatti Veyrons do most of their mileage on the back of trucks, while their owners – with a few notable exceptions - use them mainly to show off at moneyed hot-spots around the world.
Best hypercars 2021
1. McLaren F1
10. Bugatti Veyron