Hyundai Kona N vs Ford Puma ST: 2022 twin test review
The new Hyundai Kona N and Ford Puma ST go head-to-head in a hot SUV showdown
The hot hatchback used to be the epitome of everyday performance motoring, but today there's a new option for buyers in need of a family car that can still put a smile on your face – the hot SUV.
These models come in a wide range of shapes and sizes, but the two models we're testing here fit the practical performance brief particularly well, because they both use running gear that's borrowed from established hot hatchbacks. First up is the Hyundai Kona N, which sources its drivetrain from the company's first hot hatch, the i30 N. That means it packs a 276bhp 2.0-litre turbocharged petrol engine, and the Korean manufacturer has kitted it out with plenty of clever electronics and a bespoke suspension set-up to help deliver what's promised to be an entertaining drive.
The Kona N is a more compact car than the i30 N, so while the latter model challenges the likes of the Ford Focus ST for honours, we've had to look elsewhere in Ford's line-up for a rival. But it's a good one: the Puma ST.
Of course, this model is based on the excellent Fiesta ST supermini, but are that car's 197bhp turbo three-cylinder engine and associated running gear still effective when fitted in a slightly larger package? We headed to Wales to find out which of these performance SUVs delivers.
Hyundai Kona N
| | |
| --- | --- |
| Model: | Hyundai Kona N |
| Price:  | £35,745 |
| Engine:  | 2.0-litre 4cyl turbo, 276bhp  |
| 0-62mph:  | 5.5 seconds |
| Test economy:  | 33.2mpg/7.3mpl  |
| CO2:  | 194g/km   |
| Annual road tax:  | £155 |
The Hyundai Kona N is the first SUV to wear the Korean firm's performance badge. There's just one version offered, the 2.0 T-GDi with an eight-speed twin-clutch gearbox. It's priced at £35,745 and the only options are different paint colours.
Design & engineering
Compact dimensions and squat looks mean that the Hyundai Kona is well suited to a performance car makeover. For the N version, Hyundai has fitted sportier suspension and added a chunky bodykit, and there's a new front-end design with three air intakes set above the grille, which has a blacked-out Hyundai logo placed in the centre.
However, most of these design touches are shared with the N-Line version of the standard Kona. To further differentiate this full-fat N model, Hyundai has added 19-inch black alloy wheels, while a red coachline runs along the front splitter, along the side mouldings and around the stylised diffuser in the back bumper. There's also a high-set triangular brake light under the enlarged tailgate spoiler, while the two fat drainpipe exhausts give a clue to the firepower under the bonnet.
That power comes in the form of a 2.0-litre four-cylinder powerplant, which is carried over from the i30 N. It makes 276bhp and 392Nm of torque – a healthy 79bhp and 72Nm ahead of the Puma ST – but in contrast to the i30 N, there's no manual gearbox option, just an eight-speed twin-clutch unit. This sends power to the front wheels via an electronically controlled limited-slip differential, while the MacPherson strut front suspension and multi-link rear end (which is shared with the Kona Electric) feature adaptive dampers.
As with the i30 N, there are a host of electronics on board that control assorted settings, while the cabin features plenty of N badging and sporty styling cues. The multifunction steering wheel has two blue configurable switches, plus a bright-red NGS button. This stands for N Grin Shift, a function that maximises engine and gearbox performance for 20 seconds to deliver the fastest possible acceleration.
Driving
All of these electronics could leave the Kona N feeling artificial, but they are well integrated. Individual adjustment for the suspension, throttle, gearshift and steering weight mean you should be able to tailor the car's set-up for your needs.
Partnership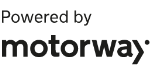 Need to sell your car?
Find your best offer from over 5,000+ dealers. It's that easy.
But whichever settings you pick, the Kona N's stiff chassis set-up is ever-present. Decent damping takes the edge off the car's rigid feel, though, while the chassis delivers plenty of grip. Turn into a corner, and the front end simply digs in and follows your chosen route, while the rear feels tied down, too, with no wayward movement unless you really try and provoke it – it's almost like a four-wheel-drive car in character. Get on the power early in lower gears, and while the front end will start to slip if grip is low, there's only a hint of torque steer before the electronically controlled diff reins things in, and the steering lets you know what's going on.
The engine delivers strong acceleration, while the crisp shifts of the DCT gearbox mean there's no let-up in acceleration, either, but we would like a bit more character from the drivetrain. There's a Sport mode for the exhaust, but the noise sounds remote and isn't nearly as engaging as the car's chassis.
You can try to take things easy in the Kona N, but the car's stiff set-up and sporty character mean it's never really relaxing. Set everything to Normal, and the Hyundai still traces undulations in the road surface, and there's plenty of road roar from the specially developed Pirelli tyres. Even a motorway cruise is tiring, while urban driving is a bumpy and unsettled experience unless the surface is silky smooth. Switch to the track-focused N mode and this harshness is only magnified.
Practicality
Figure-hugging N-branded sports seats come as standard in the Kona N, and they offer plenty of  lateral support. The downside is their size, because they eat into the Kona's already cramped rear cabin. Kneeroom is especially tight, and is made worse by the lack of cut-outs in the front seat backs.
The Kona and Puma are similarly sized, although the Hyundai is shorter and narrower than the Ford, but with a slightly longer wheelbase and higher roof. Neither car is particularly spacious in the back, but the Puma has marginally more room. Neither will be much good at carrying three passengers in the back on a regular basis, though.
Ownership
There's an array of electronics to help you make the most of the Kona N's performance, and there's a full house of safety equipment, too. Autonomous emergency braking with pedestrian detection, blind-spot assist, lane assist and adaptive cruise control are all fitted as standard – you need to add a £600 pack to the Puma ST for blind-spot detection, while adaptive cruise isn't even offered. This safety kit only helps to bolster the five-star Euro NCAP score earned by the standard Kona and which also applies to the N version.
Running costs
Use either of these cars as they're meant to be driven, and you won't get close to the claimed economy. With its extra power and twin-clutch gearbox, the Kona N has poorer official figures than the Puma ST, but we managed to match its 33.2mpg WLTP quote before we performance tested the car.
Neither model will be a first choice for business users thanks to their high emissions, but again the Hyundai has to settle for second best. It sits in the top 37 per cent Benefit-in-Kind tax bracket, and lower-rate taxpayers will shell out around £500 a year more than they would for the Puma ST.
Testers' notes: "The NGS button activates a 'max power' mode for 20 seconds of searing acceleration, but it's a novelty that you'll probably only use a couple of times."
Ford Puma ST
| | |
| --- | --- |
| Model: | Ford Puma ST Performance Pack |
| Price:  | £30,545 |
| Engine:  | 1.5-litre 3cyl turbo, 197bhp  |
| 0-62mph:  | 6.7 seconds |
| Test economy:  | 39.5mpg/8.7mpl  |
| CO2:  | 151g/km |
| Annual road tax:  | £155 |
As with the Kona N, the Puma ST is at the top of Ford's small SUV range, so it gets a similar set of visual and performance upgrades. It's not quite as powerful as the Hyundai, and it costs less, too, with this Performance Pack model coming in at  £30,545.
Design & engineering
The Kona and Puma use running gear from different-sized hatchbacks, but place them side-by-side, and there's not much between them in terms of dimensions. However, while Hyundai has kitted out its N model with styling upgrades to help it stand out from the rest of the Kona line-up, the Puma ST is surprisingly subtle.
Fail to spot the red ST badges, large 19-inch alloys, red brake calipers or double-barrel exhaust poking out of the back bumper, and you'd be forgiven for mistaking the ST for a lower-spec ST-Line model. Our car's Magnetic dark grey paintwork doesn't help matters, although this can be easily rectified if you choose the vivid Mean Green colour option that's offered exclusively on ST models.
It's a similar story inside, where the cabin has been given a sporty update, but again, it's only an incremental upgrade over what's offered on ST-Line versions. Recaro sports seats have been added, but aside from an exclusive gearlever and ST-branded kickplates and mats, this flagship model's predominantly grey interior hides its status well.
Under the skin, the Puma ST doesn't use as many electronics as the Kona N. There are the usual traction and stability control systems, and selectable drive modes that tweak the steering and throttle response. But there are no adaptive dampers, while the sole transmission option is a six-speed manual. This is linked to a 1.5-litre turbocharged three-cylinder engine, which packs 197bhp and 320Nm of torque.
That's a chunk less than the Kona N delivers, but drive is still sent to the front wheels via a limited-slip differential on Performance Pack models. The lack of electronics is one reason why Ford is able to charge around £5,000 less for its small performance SUV.
Driving
Don't go thinking that the Puma ST's relative lack of power when compared with the Kona N means it's fighting a losing battle here. In fact, the Ford is more than capable of holding its own against the Hyundai.
A 0-62mph time of 6.7 seconds is 1.2 seconds slower than the Kona N's, but because the Puma ST's 320Nm torque figure is available from as low as 1,600rpm, there's plenty of mid-range urge to make everyday driving a breeze. The slick-shifting six-speed manual gearbox adds a level of involvement that the DCT-equipped Hyundai struggles to match, too.
The Puma ST also proves that you don't need fancy adaptive dampers or a wide range of adjustable settings to produce an engaging performance car. Ford's engineers have given the Puma ST a ride and handling balance that means it feels just as sporty to drive as the Hyundai, yet there's a compliance to the suspension that means it's far more relaxing when you want to take things easy.
The ride is still on the firm side of comfortable, but the Puma ST doesn't suffer from the same unsettled character that overrides the Kona N's driving experience. Rather than rigidly follow the rise and fall of a bumpy road, the Ford more readily flows over undulations, and is more comfortable as a result.
Fast steering and an effective limited-slip diff mean the Puma ST turns and grips as tightly as the Kona N, but thanks to the relative lack of power the drivetrain isn't overwhelmed if you hit the throttle early. The back end feels livelier, too, while the inside rear wheel can lift off the ground during hard cornering.
Practicality
For such a compact car, the Ford Puma delivers a surprising amount of boot space, and it's a credit to Ford that this hasn't been compromised in the ST. There's 456 litres of capacity in the back, which is nearly 100 litres more than in the Hyundai, and you get the Mega Box under-floor storage system here as standard.
This comprises a deep, square storage compartment under the false floor, which is lined with plastic and has a drain hole that means you can store wet items inside. The Mega Box is deep enough that you can fit a set of golf clubs upright in the boot without any problems. Our only gripe with the Puma's cargo area is the flimsy fabric load cover. It's clipped to the tailgate, but the attachments feel like they could break easily if you're not careful when closing the boot with a full load on board.
Ownership
Our two manufacturers here have a mixed bag of Driver Power results between them. Poorest of the lot is for Ford as a manufacturer, who came 25th in our ownership poll, nine places behind Hyundai in the same survey.
The tables were turned in the Driver Power dealer section, though, with the Blue Oval's franchises coming home 12th, compared with a 15th-place finish for the Korean manufacturer.
If warranty coverage is important to you, then Hyundai has an edge, thanks to its five-year, unlimited-mileage plan. While Ford offers a three-year/60k warranty as standard, there is the option to extend it to five years at extra cost.
Running costs
A lower power output combined with a lighter kerbweight puts the Puma ST well ahead of the Kona N for official fuel economy, with a WLTP tested 41.5mpg quoted.
One area where these two are closely matched is on insurance costs, with just a £5 difference between quotes for our sample driver. Figures in excess of £500 will be far greater than those for the standard models – a Group 27 rating for the N compares with Groups 8-11 for other Konas, while the Puma is in Groups 14-17, with the ST in Group 22.
Testers' notes: "The Puma ST's three-cylinder thrum gives the car a sporty edge, a sound that's amplified in the cabin with the help of an artificial sound synthesiser."
Verdict
First place: Ford Puma ST
There's one car that defines the small performance SUV sector, and it's the Puma ST. It's not as fast as the Kona N in a straight line, and it doesn't have the same level of electronic assistance, either, but it doesn't need it. Its entertaining chassis, torquey engine and well judged suspension mean it's a great all-rounder that could be considered a performance car bargain.
Second place: Hyundai Kona N
The Kona N is certainly a punchy performance car, but even though there are numerous ways to set up the engine, steering and suspension, it never feels as cohesive as the Puma ST. It's too firm to be everyday family transport, while the N settings take everything to the extreme. Factor in a higher price for a car that's no more practical than the Ford, and it takes second here.
Other options for similar money...
New: MINI Countryman JCW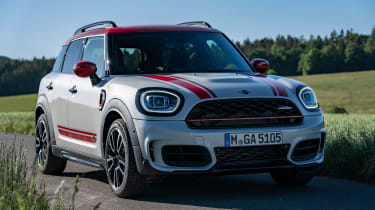 Price: £38,325
Engine: 2.0-litre 4cyl, 302bhp
Another leftfield choice in the fast SUV sector, the Countryman John Cooper Works has nearly 100bhp more than the Puma ST, and four-wheel drive delivers all-weather capability. It's a more practical family car, too, with more passenger space.
Used: BMW X3 M40i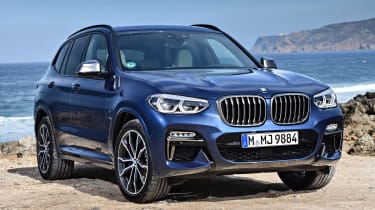 Price: £36,400
Engine: 3.0-litre 6cyl, 349bhp
The latest X3 is a great family SUV that's also surprisingly fun to drive in any guise. However, for the price of a new Kona N, you can pick up a 2018 example of the M40i, which comes with a potent straight-six petrol engine.
Figures
| | | |
| --- | --- | --- |
|   | Ford Puma ST Performance Pack | Hyundai Kona N |
| On the road price/total as tested | £30,545/£31,320 | £35,745/£36,310 |
| Residual value (after 3yrs/36,000) | £17,808/58.3% | £18,230/51.0% |
| Depreciation | £12,737 | £17,515 |
| Annual tax liability std/higher rate | £2,036/£4,071 | £2,542/£5,083 |
| Annual fuel cost (12k/20k miles) | £2,196/£3,660 | £2,613/£4,354 |
| Insurance group/quote/VED | 22/£518/£155 | 27/£523/£155 |
| Cost of 1st/2nd/3rd service | £530 (2yrs) | £461 (2yrs) |
|   |   |   |
| Length/wheelbase | 4,226/2,588mm | 4,215/2,600mm |
| Height/width | 1,550/1,805mm | 1,565/1,800mm |
| Engine | 3cyl in-line/1,497cc | 4cyl in-line/1,998cc |
| Peak power/revs | 197/6,000 bhp/rpm | 276/5,500 bhp/rpm |
| Peak torque/revs | 320/1,600 Nm/rpm | 392/2,100 Nm/rpm |
| Transmission | 6-spd man/fwd | 8-spd auto/fwd |
| Fuel tank capacity/spare wheel | 45 litres/repair kit | 50 litres/repair kit |
| Boot capacity (seats up/down) | 456/1,216 litres | 361/1,143 litres |
| Kerbweight/payload | 1,283/532kg | 1,510/500kg |
| Turning circle | 10.4 metres | 11.7 metres |
| Basic warranty (miles)/recovery | 3yrs (60k)/1yr | 5yrs (unlimited)/1yr |
| Driver Power manufacturer/dealer pos | 25th/12th | 16th/15th |
| NCAP: Adult/child/ped./assist/stars | 94/84/77/74/5 ('19) | 87/85/62/60/5 ('17) |
|   |   |   |
| 0-62mph/top speed | 6.7 secs/137mph | 5.5 secs/149mph |
| Auto Express economy/range | 39.5/8.7/391 miles | 33.2/7.3/365 miles |
| WLTP combined | 41.5mpg | 33.2mpg |
| WLTP combined | 9.1mpl | 7.3mpl |
| Actual/claimed CO2/tax bracket | 165/151g/km/34% | 197/194g/km/37% |
|   |   |   |
| Airbags/Isofix/park sensors/camera | Six/yes/f&r/£600* | Six/yes/f&r/yes |
| Auto box/lane keep/blindspot/AEB | No/yes/£600*/yes | Yes/yes/yes/yes |
| Climate control/adaptive cruise | Yes/no | Yes/yes |
| Leather/heated seats | Part/yes | Part/yes |
| Metallic paint/LED lights | £425/yes | £565/yes |
| Keyless entry & go/power tailgate | Yes/£350 | Yes/no |
| Sat-nav/digital dash | Yes/yes | Yes/yes |
| DAB radio/connected services | Yes/yes | Yes/yes |
| Wireless charge/CarPlay/Android Auto | Yes/yes/yes | Yes/yes/yes |