2040 petrol and diesel 'ban': hybrids set to be exempt
Government states it is "technology neutral" in Road to Zero plans; wants half of all new cars to be ultra-low emission by 2030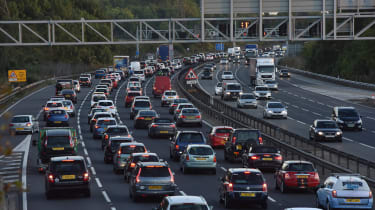 Hybrid cars are set to be exempt from the 2040 petrol and diesel 'ban', following publication of the Government's Road to Zero strategy.
The long-awaited document details that the Government is taking a "technology neutral" approach as it aims to make all new cars and vans sold from 2040 "effectively zero emission". While details on what "effectively" means are still forthcoming, the document explains that "the zero emission range of today's plug-in hybrid and range extender vehicles can already cover the vast majority of UK journeys", and recognises "that the vast majority of vehicle manufacturer plans include plug-in battery electric powertrains."
Announcing the Government's plans to tackle nitrogen dioxide emissions in July 2017, Michael Gove told the BBC that: "The Conservatives had a manifesto promise to ensure that by 2050 there would be no diesel or petrol vehicles on our road. Today we're confirming that should mean no new diesel or petrol vehicles by 2040."
The same month, Gove went on to tell ITN that "we have to get rid of petrol and diesel cars". While the Department for Transport's nitrogen dioxide strategy clarified the Government would end the sale of new "conventional" petrol and diesel cars from 2040, Gove's comments were widely reported as meaning any car with a petrol or diesel engine – including all types of hybrid – would be banned from sale.
A year later, Road to Zero details that "a 50-mile continuous zero emission range could cover up to 98% of all UK journeys and a 25-mile continuous zero emission range could cover up to 94%". This indicates sales of new PHEVs with a range of between 25 and 50 miles are likely to be allowed to continue after 2040. Current PHEVs are already able to run for around 30 miles on zero-emission battery power alone. If the 50-mile minimum EV range becomes mandatory, they will likely be able to achieve such a target by 2040. Self-charging hybrids such as the standard Toyota Prius are unlikely to be able to meet either of these targets, though.
The Road to Zero strategy also explains that the Government wants to see "at least 50%, and as many as 70%, of new car sales and up to 40% of new van sales being ultra low emission by 2030." Ultra Low Emission Vehicles, or ULEVs, are currently classed as cars with CO2 emissions of 75 grams per kilometre (g/km) or less.
While Road to Zero explains that this limit is likely to be reduced to 50g/km of CO2 by 2021, many plug-in hybrids currently on sale – including the Audi A3 e-tron, the Toyota Prius Plug-in, the Hyundai Ioniq Plug-in and the Mitsubishi Outlander PHEV – officially emit under 50g/km of CO2 already.
Tighter emission limits are likely to follow, though. Road to Zero states that "by then [2040], we expect the majority of new cars and vans sold to be 100% zero emission and all new cars and vans to have significant zero emission capability. By 2050 we want almost every car and van to be zero emission." The document cautions, however, that "it would be premature to speculate precisely which technologies might and might not be able to deliver our long-term ambitions". Road to Zero will be reviewed in 2025, when "progress towards our ambitions" will be assessed.
Other details contained in Road to Zero include the notion that older cars could also benefit from hybrid technology, as "retrofitting vehicles with pollution-reducing technology can offer a relatively low cost alternative to purchasing new low emission vehicles".
The proposals also call for all new houses to be built with charging points for PHEVs and electric cars and concedes that "cleaner diesel cars and vans can play an important part in reducing CO2 emissions" as "diesel is more suitable for cars that regularly drive long distances or carry heavy loads." The document also confirms the plug-in car grant will continue until "at least October 2018", while "consumer incentives in some form will continue to play a role beyond 2020."
Responding to Road to Zero, Mike Hawes, chief executive of the Society of Motor Manufacturers and Traders (SMMT), said: "the industry said it supports the UK's ambitions", but added that "for consumers to adopt these technologies, government must provide a long-term commitment to a world-class package of incentives, including tax and other financial stimuli, policy support and infrastructure – only some of which have been set out today."
Leeds plans emissions fee of £50 a day for large vehicles
Lorries, coaches and buses entering Leeds city centre face a daily charge of £50 as the city is set to introduce a London-like clean air charging zone later this month.
Leeds is set to join London by actively charging and targeting high-polluting vehicles to enter the city centre. Leeds City Council initially suggested a daily fee of £100 for high-polluting vehicles, but feedback from the public said this was too much.
• London ultra-low emission zone to begin in 2019
The city is now aiming to charge buses, coaches and HGVs £50 a day, while taxis and private hire vehicles face a £12.50 charge to enter the city. After 2020, the city will introduce further additions to the clean air zone and is already looking at the potential of car-free days in the centre.
The daily £50 charge will apply to any bus or HGV that doesn't meet either Euro 6 standards for diesels, or Euro 4 standards for petrols. Anything cleaner than required – including hybrids and electric vehicles – will be exempt, although the threshold for taxis and private hire vehicles is yet to be decided.
Leeds is one of a growing number of cities in the UK working on clean air charging zones that could see drivers of older, high-polluting vehicles charged a fee to enter. Initial proposals by many cities, including Leeds and Birmingham, won't see private car drivers charged, though this could change in the future.
In May last year, the Government announced its £220 million Air Quality Plan that proposed councils and cities in the UK consider introducing clean air zones that limit the number of polluting vehicles in cities to tackle air pollution.
James Lewis, Leeds City Council executive board member for resources and sustainability said, "Ensuring we reduce pollution levels across the whole city is a real priority for the council and something we are working hard to achieve. As much as the clean air charging zone forms a key part of our preferred scheme – ensuring all our communities are able to breath clean air is the end goal."
UK Government says there's still a role for diesel
The Secretary of State for Business, Energy and Industrial Strategy, Greg Clark, previously suggested that, for the time being at least, diesel power still makes sense for some buyers. His advice is in stark contrast to that of Transport Secretary Chris Grayling, who said last year that motorists should "think twice" before buying another diesel car.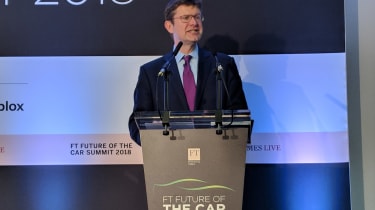 Speaking at the FT Future of the Car Summit, Clark said, "I think it's important to say that new-generation diesel engines can make a big contribution to reducing our emissions. I would expect the contribution of the higher standards of efficiency and emissions performance of diesel engines to continue to drive improvements in air quality and our greenhouse gas performance. It would be the wrong decision for people to think that holding onto an existing diesel vehicle rather than upgrading to a much more environmentally friendly new one is a good step for the planet. We will, throughout our report, stress that.
"There's a place for diesel vehicles and there will be for some time to come," Clark added. "If you're driving a diesel-powered car long distances then that's a very different impact than in the city. So we need to make sure people make the right choices for the environment and for their own use. What we'll set out in the report we're going to publish is how different choices may be right for different people in different circumstances."
Petrol and diesel ban: battle against poor air quality
The Government estimates that poor air quality poses the largest risk to public health in the UK, costing the economy £2.7 billion in lost productivity. To combat the health epidemic, the Government wants to accelerate the uptake of green vehicles across the country.
Local authorities will be able to dip into a £3 billion fund on improving air quality. The air quality package is said to include £290 million towards a national productivity investment fund which will go towards low emissions taxis.
In addition, councils will also be handed a green bus fund to convert existing public transport, and £1.2billion towards cycling and walking schemes, as well as £100 million to tackle roadside pollution.
• Hydrogen cars: everything you need to know
Road infrastructure will also be changing, with £255 million towards changing road layouts such as speed bumps, speed limits and roundabouts, in addition to reprogramming traffic lights. The Government will also invest £100 million in improving the UK's electric vehicle charging infrastructure.
While some will question whether £100 million is enough to bring the UK's charging infrastructure up to standard by 2040, Chargemaster told Auto Express it believes "the UK's charging infrastructure will be ready by 2040" to handle a sales ban on petrol and diesel cars. A spokesman told us: "Yes, we will be ready by 2040. The infrastructure is growing rapidly. Five years ago there were around 3,000 public charging points, today there is over 13,000 – and there's a huge increase in home charging."
Chargemaster also pointed out that the majority of charging takes place at home. "We see around 100,000 home charging sessions per week, compared to 5,000 public charging sessions." However, for those drivers without access to home charging, Chargemaster says it's already rolling out 25 rapid charging stations per month and expects this to increase in the future.
"Though funding from the Government is always welcome, the private sector is taking the lead here and we will be ready by 2040."
However, Mike Hawes, chief executive of the Society of Motor Manufacturers and Traders said that it isn't enough for just the private sector to contribute. "What is needed is all the different stakeholders [to contribute], Government, manufacturers, distribution networks, energy companies. One of the frustrations for manufacturers [that] have been putting vehicles on the market is that the infrastructure has not kept pace."
The UK isn't alone in announcing a 'ban' on the sale of diesel and petrol vehicles from 2040. France's newly elected president, Emmanuel Macron, announced a similar ban earlier this month in order to ensure the country is able to meet emissions targets agreed under the Paris climate accord.
Petrol and diesel ban: latest news and comment
What do you think of the petrol and diesel car sales ban? Tell us your thoughts in the comments below...