How much do driving lessons cost?
Your guide to the cost of driving lessons, and how much money you'll need to pass your test and get your licence
Learning to drive is an essential life skill that unlocks doors to all sorts of valuable opportunities and exciting experiences. Carry that thought in your mind if you're looking into learning, because it's essential to keep an eye on the prize when you find out just how much learning to drive may actually cost you.
Official figures suggest the average new driver invests around £1,200 in learning the skills from a professional instructor and getting tested, and that's a lot of money – especially for young people or students just starting out in life. It's possible to learn privately without hiring an instructor, but many parents who take on the teaching role find it challenging, and often their charges find it hard to take instruction from one of the very people they want a car to get away from… go figure! As a result, many who start out on the independent route end up hiring a professional instructor anyway, but practice with a parent or friend to reduce the cost of lessons they need.
It's not just lessons that add up, although they're typically the major expense. You've also got to be ready to shell out for costs of a provisional licence, as well as theory and practical tests, often more than once. Government figures suggest the average pass rate is below 50 per cent.
Then of course, there's insurance. If you're only driving an instructor's car then cover will be included in the lesson cost, but if you intend to learn in your own car or one belonging to a family member, be prepared for significant premiums.
Happily there are a few things you can do to keep the financial burden to a minimum, and knowing exactly what to expect is a good place to start. Have a look at the following table for a rough breakdown of the costs involved on the road to becoming a fully licensed driver:
Provisional licence

 

£34 online, £43 via post

 

Driving lessons

 

£1,128 (47 lessons at £24 per hour)

 

Driving theory test

 

£23

 

Practical driving test

 

£62 on weekdays, £75 on evenings and weekends

 

Estimated total

 

£1,260

 
The big factor here is, of course, the lessons: some people will need more, others will need less, and the amount charged for each varies between instructors. Something else to consider is provisional licence insurance, which allows learner drivers to take to the road under the supervision of a friend or relative. The time spent practicing in private might reduce your dependence on an instructor, and could lead to useful savings…
Scroll down to read our full guide about the costs of learning to drive, which covers all of the options available to beginners working towards a full UK driving licence.
How much does a provisional licence cost?
A provisional driving licence costs £34 if you apply online, or £43 if you fill in a D1 application form at the Post Office. You must be at least 15 years and nine months old when you apply.
The provisional licence will allow you to drive a scooter or quad bike at 16 and a car at 17, provided that you are being supervised by an instructor or another driver over the age of 21 who has held a full licence for three years or more.
Once you have passed your test, your provisional licence will be exchanged for a full licence at no additional cost. If you need to, you can change the name and address on your licence for free, although a £17 charge will apply if you need to alter your photo.
How much do driving lessons cost?
The average cost of an hour-long driving lesson in the UK is £24 if you buy a block of ten at a time.
Based on quotes from the main national driving schools, an initial 10-hour block can cost anything from £200 to £250, with various discounts and offers available depending on the provider. Location is also a big factor, as lessons tend to be more expensive in cities than in rural areas.
• How to get your driving licence
Alternatively independent instructors may offer cheaper rates, so it's worth looking around locally to see if you can save yourself some money. Talk to friends and family about instructors they have used: they might be able to recommend someone affordable and trustworthy.
Should I take an intensive driving course?
Intensive driving courses - sometimes inappropriately referred to as 'crash courses' - offer learners the opportunity to take all of their lessons back-to-back, usually over a period of days. They can be useful either for students who are free during holidays, or for anyone who needs to get their licence in a hurry.
• Best intensive driving courses
While it is possible to reach the standard required to pass in this time frame, there is something to be said for the more traditional approach of weekly lessons, which gives new skills time to sink in. Intensive courses don't tend to offer much of a discount on hourly instructor rates either, so it's unlikely that you'll save money by learning in this manner.
How many lessons will I need to pass my test?
Along with their £24p/h figure for lessons, the DVSA (then known as the DSA) recommended that learner drivers receive 47 hours of professional tuition prior to taking the practical test, backed up by a further 22 hours of private practice. The amount of tuition you will need depends on how confident you are and how quickly you become proficient, but there's no telling how easily you will learn before you venture out onto the road.
Something else to be aware of is local pass rates, which might help manage your expectations. These vary depending on location, with busy cities usually registering lower success rates than quieter rural places. The Department for Transport reported a national average pass rate of 51.2% on the theory exam and 49.7% on the practical test from July to September 2016, although this can be out by 20% or more in either direction depending on where your nearest test centre is.
How much do I have to pay to take my driving test?
There are two parts to the driving test: the theory and the practical. The theory examination costs £23, and consists of multiple choice questions and a hazard perception segment. For this you'll need a thorough understanding of the Highway Code, and it is recommended that you buy revision material to study with beforehand. Available online, or in DVD or book form, this is relatively inexpensive and should only cost a handful of pounds.
Once you've passed the theory test, you must also complete the practical examination within two years, or else your theory certificate will expire.
The practical test is priced at £62 on weekdays and £75 at evenings and weekends. However, if you're taking your test in your instructor's car you will need to factor in the cost of hiring this vehicle for the duration of your exam, as this isn't included in the test centre's price.
If you fail either section of the test, you will have to pay the full amount again for whichever segment you need to retake.
Should I consider provisional driving insurance?
Although plenty of people learn to drive in just their instructor's car, it can be immensely beneficial to develop your new skills in another vehicle. Some insurance companies offer short-term policies for provisional licence holders, and this can be a more cost-effective way of gaining experience in the build-up to your test. But don't forget: you still need to be supervised!
You can expect to pay as little as £2 per day for a 90-day policy depending on your age and where you live, and while this isn't economical in the long-term, it will save you money if it reduces the amount of instructed lessons you need to become test-ready.
The only additional cost to consider would be fuel, which in a normal lesson is covered by your instructor.
Should I do more driver training after passing my test?
Once you've passed your test you're under no obligation to do any more training, but what a lot of newly qualified drivers don't realise is that they're still inexperienced compared to most other road users! The best advice is to drive regularly so your abilities continue to improve: anyone who stops driving altogether immediately after gaining their licence runs the risk of needing refresher lessons when they eventually return to the roads.
Another thing to bear in mind is that learner drivers aren't allowed onto the motorways under current laws, which means you won't have driven on a three-lane road until you've passed your test. If you live near a motorway you might want to consider getting a bit of practice along with someone who has done it before, and some instructors offer post-test lessons specifically for this purpose.
• Best first cars for new drivers
Beyond that, there are a handful of schemes you can enrol on. One of the most popular is Pass Plus; a six-hour course that teaches additional driving skills in all weathers, roads and times of day. Instead of a practical examination you are assessed over the duration of the course, and if you're deemed to have passed at the end you will be given a certificate which can sometimes lead to lower insurance premiums with cover providers. Again prices vary depending on where you live, but it's worth looking on your local council's website as some authorities provide small Pass Plus bursaries.
Something else that might interest you is defensive driving, which isn't nearly as combative as it sounds. It's a form of advanced driving that teaches full licence holders to be more aware of potential hazards out on the road, and how they can limit the dangers posed by them. If you live in a particularly busy area, this is a good weapon to have in your arsenal...
First Cars on Auto Express...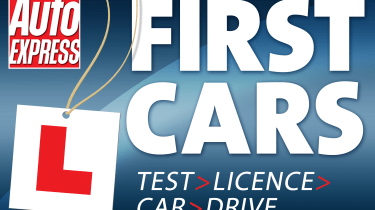 Everything you need to know about learning to drive, getting your driving licence and choosing your first car...
Learning to drive
Passing your driving test
Getting your first car
For all the latest car news, features, tips and advice, follow Auto Express on Twitter and like us on Facebook...