MINI Cooper S v Renaultsport Clio 197 v Ford Focus ST-2 v Volkswagen Golf GTI
The new MINI Cooper S battles hot hatch rivals from Renault, Ford and VW on the UK's twistiest tarmac...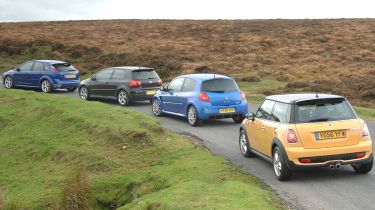 The new MINI is here! BMW's beautiful baby has been reborn and is ready to turn British car buyers all starry-eyed, with its unique blend of visual charisma and invigorating driver appeal.
Auto Express got its hands on one of the first production cars – in fact, we collected this Cooper S direct from the Oxford factory – and set the newcomer a stern test: is it good enough to be crowned the UK's ultimate hot hatch?
And where better to conduct the test than on Britain's toughest roads – as selected by you. In Issue 897, Auto Express and Continental tyres named the twistiest roads in the UK, so on top of our usual testing procedures, we took the MINI to four of the 10 on the list, including the most challenging of all, the B3081 in Somerset. But the roads aren't the only opposition the Cooper S has to face.
Competition in the hot hatch market has reached boiling point – and there's no better way to find out if the MINI can take the lead in the pocket rocket race than to square it up against Renault's thrilling Clio 197. Taut, muscular and with carefully honed suspension, it's more mature than before, but hasn't lost its sense of fun.
That's not all, though. Hot hatch buyers are spoilt for choice, so we stepped up a class in our search for the best. The Ford Focus ST and VW Golf GTI will test every aspect of the MINI's performance. So which is the best hot hatch money can buy? Read our 24-hour shoot-out for the answer.
Verdict
All four of these hot hatches are superb, and each has its own distinct character, so don't write off any of them before taking a test drive.
However, the Golf falls first. Although desirable and impressive on the road, in this company it lacks the intoxicating driver appeal that a cracking hot hatch should deliver. The Focus ST is next – powerful and good value, it's a characterful car you can really bond with. Doing the same with the Clio 197 takes effort, though – it's raw and uncompromising, but very rewarding.
MINI's latest Cooper S lacks the Clio's racer-like reflexes, but we found it more enjoyable more of the time during our tour of Britain's bendiest roads. It's a hoot to drive, and that's enough for it to be crowned champion.