Lexus LS v Mercedes S-Class
They're two of the world's most advanced cars, but which has the edge...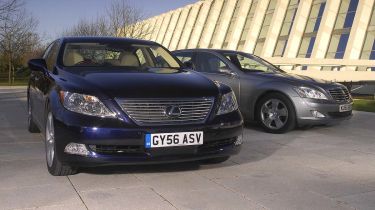 Cambridge University's Trinity Coll­ege is one of the oldest seats of learning in the world. Yet even though it can trace its origins all the way back to 1546, when it was originally founded by King Henry VIII, the institution has managed to keep pace with new ideas.
In fact, with its own world-class business park (which we used as the backdrop for our main pic­ture), Trinity is right at the cutting edge of modern science and technology. And in that respect, the all-new Lexus LS460 has a great deal in common with it. The Japanese company's top-of-the-range model is now in its fourth generation, and can boast eight automotive world firsts. It's a technological tour de force, and if ever a car could claim to be intelligent, this is it.
Lexus arrived on these shores in 1989, and UK sales have grown from a meagre 671 in 1991 to more than 12,000 a year today. Yet although the launch of the LS is big news, no car in the sector is better, or has more experience, than our current favourite: the eighth-generation Mercedes S-Class. It's the model Lexus has to beat.
Verdict
If you're in the market for the ultimate luxury car, both the Mercedes S-Class and Lexus LS are likely to be on your shortlist. No other models come close to their quality, technology, equipment, comfort and refinement – not even the Bentley Flying Spur or Rolls-Royce Phantom.
But in concentrating so hard on these areas, Lexus has missed a critical trick – to make the occupants feel good. The LS460 is highly impressive and has incredible engineering, but it lacks personality, coming across as clinical and bland. The Merc is every bit as talented and rides better, yet while it doesn't have the charisma of the best British luxury cars, it's more engaging to own and live with than the Lexus. As a result, it wins comfortably here.