Superminis
We compare Proton's new Satria Neo with rivals from Suzuki, Hyundai and Ford in its first test...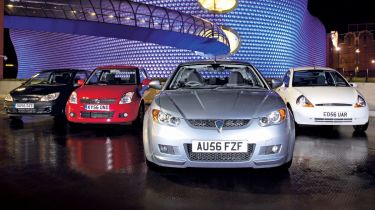 If you're in the market for a budget supermini, you certainly aren't short of choice. There's a raft of good-quality models available at low prices and, thanks to fierce competition among car makers, there are plenty of bargains to be had.
One firm that has always prided itself on its value for money image is Proton, but the manufacturer has so far seen limited sales in this country. So why does the brand fail to make its way on to most buyers' shopping lists?
The fact most competitors produce more stylish and equally affordable cars probably doesn't help. Proton has tried in the past to raise its profile – the Satria 1.8 GTi is perhaps its best-known model and won a keen, if small, following. Now, with its new Satria Neo, the company is hoping to build on this recognition. The involvement of Lotus should certainly help. The famous British sports car maker was acquired by Proton in 2003, and it's clear the Malaysians are keen to take full advantage of the power of Lotus's engineering know-how – and of course its strong brand image. Bosses are hoping to draw in a target market of buyers looking for a combination of driving excitement and great-value motoring.
More reviews
In-depth reviews
Road tests
So, the Satria Neo certainly promises much. But it enters a highly competitive market and we've put it up against some of the best small budget cars around, in the form of the Suzuki Swift, Hyundai Getz and Ford Ka. Does the Proton have what it takes to come out on top?
Verdict
It's difficult to see who the Satria Neo is aimed at. With its athletic styling, boomy exhaust and Lotus badging, it's trying to be a hot hatch, but the cabin and handling are far from sporty. Proton claims that buyers will be in their late thirties and forties – so why doesn't the firm focus on quality and refinement?
There isn't much to recommend the Satria; it brings very little to the super­mini sector, so comes last. Third goes to the Getz – it has useful rear space and a refined diesel, but the styling and interior are dull, and the equipment basic.
That leaves the Swift and Ka to fight it out, and the Japanese car takes an easy victory. From the styling to the interior quality and engine, there's nothing to make you feel you're in a budget car. It's entertaining, comfortable and well put together. The Ka comes second; it's still a fine choice, with an excellent chassis, great manoeuvrability and a well laid out interior.