Fiat Panda v Smart ForTwo v Mitsubishi i
We see if Fiat's class-leading Panda has anything to fear from Smart's ForTwo and Mitsubishi's cutting-edge i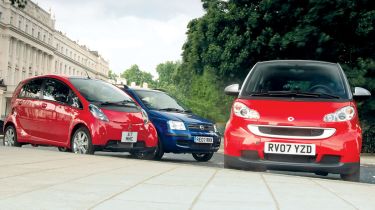 When it first appeared at the Frankfurt Motor Show in 1997, the Smart was unlike anything the European car market had ever seen before.
With its Tridion safety cell, changeable plastic body panels and sequential auto gearbox, it was a brave new take on the city car. Its tiny dimensions and unique appearance made them fashionable again. But behind the clever marketing was some unusual engineering. Taking its inspiration from cars such as the Fiat 500, the ForTwo had its engine in the back and was rear-wheel drive. Sold in 36 countries, 750,000 have found homes around the globe.
So the launch of the second-generation model is big news – especially since it promises greater comfort and refinement in a package that's only grown fractionally bigger. However, in the city car sphere, the Japanese are arguably the world leaders. Models designed to fit in the country's K-car category (see Back seat driver, Page 48) make up two million of the 3.7 million cars which are sold in Japan each year, and the Mitsubishi i accounted for 37,000 of these in 2006. As with the Smart, the i is rear engined, but it's long and thin, so has space for four.
With a conventional front-mounted drivetrain, the Panda was our Car of the Year in 2004 and in diesel guise remains our favourite small model. Can the Italian hold on to its crown? We hit the city in our trio to find out.
Verdict
Fans of the original Smart will no doubt love the new version, as it retains the same charm and style that made the brand so unique. But we can't see it attracting many new customers. Why? While marginally improving in key areas, the car still has exactly the same flaws – it rides like a bowling ball and is blighted by poor steering, nasty brakes and a sluggish gearchange.
Highlighting the variety on offer in the city car class is the Mitsubishi i. It's roomy inside and rides comfortably, while its tiny engine and compact proportions make it very good for getting around town. However, it's weak beyond the city limits, and the £9,084 price tag is simply too much.
Which leaves the Fiat Panda to scoop top honours. The Italian does everything a great city car should, and although it doesn't have the Smart's style or the Mitsubishi's novelty value, it remains our class favourite.