Chevrolet Captiva v Hyundai Santa Fe v Honda CR-V
We see if Chevrolet's Captiva SUV can beat stars from Hyundai and Honda in its first test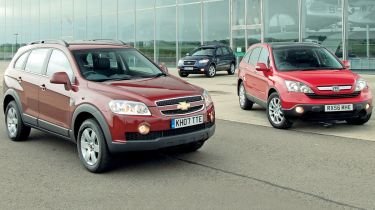 The American Air Museum at Duxford in Cambridgeshire is one of the UK's most enduring tourist attractions. This impressive building houses some of the finest US planes to grace the sky, including the massive B-17 Flying Fortress.
But the country's love affair with American aircraft hasn't filtered down to our car buying tastes, and traditional US brands have struggled to make much of an impression in the UK market. Chevrolet is a case in point.
It took over from Daewoo when parent company General Motors rebranded the range in 2005 – and that meant an ageing line-up with a reputation for low budgets rather than high quality. So what makes Chevrolet think it has a winning formula now? The answer is this: the new Korean-built Captiva SUV. It's a car bosses hope will help buyers erase any association Chevrolet has with gas-guzzling trucks – and instead see a brand that represents value, strong design and family appeal.
It certainly heralds a new dawn, not least because it comes with the manufacturer's first-ever diesel engine – a 2.0-litre unit with 148bhp. The other big news is that seven seats are offered in all but the entry-level model.
Will this be enough to attract customers to the brand? After all, it faces some top-quality rivals – and we're pitching the Captiva against two of the best here: the Hyundai Santa Fe and Honda CR-V. So which is the best buy?
Verdict
Chevrolet has succeeded in producing a competent, practical SUV. The only trouble is that it doesn't have any sparkle; while the seven-seat layout is good, it can't match the Santa Fe for space. And on the road, the Captiva is outclassed by the Honda. It finishes last, but it's by no means disgraced.
The comfortable Honda is second. We're big fans of the excellent 2.2-litre i-CTDi engine; it's one of the best diesels around, thanks to its economy, refinement and punch. The CR-V is the most composed car on the road, too. Our only gripe is the lack of flexibility; it needs more family friendly features.
That leaves the Santa Fe as our winner. We've praised it in the past, and its strengths are still evident. For family buyers, it's an excellent package with a big boot, clever folding seats and easy to clean fabrics. The VGT engine pulls well, even with a full load, and it's capable over long distances, too.