Chevrolet Captiva vs Hyundai Sante Fe
A new nose helps the Chevrolet Captiva stand out in the seven-seat 4x4 class – but does it have the beating of the Hyundai Santa Fe?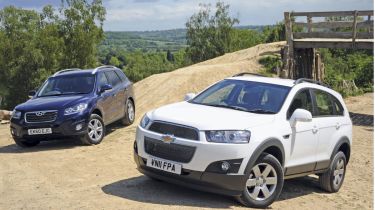 It's brash and big – and it's over here! Say hello to the fresh face that's attempting to stand out in the family-friendly 4x4 crowd.
The new Chevrolet Captiva has been given an added injection of attitude with styling that borrows unashamedly from the kind of tough-looking SUVs that the US is famous for.
New engines, an improved cabin and a host of chassis modifications ensure that the changes run more than skin deep. As before, the Captiva is available in five or seven-seat guises, and with front or four-wheel drive, while the new 2.2 VCDi diesel is available in two states of tune.
Here we put the more powerful 181bhp version through its paces in mid-range LT trim. And in all-wheel-drive form with an automatic gearbox, the seven-seater has to beat a talented rival...
The Hyundai Santa Fe is a former Auto Express New Car Award winner, and its combination of competitive pricing, generous kit levels and space has made it a popular choice since its launch in 2006.
The firm is famed for its customer service and aftersales back-up, but can the SUV compete with its revitalised competitor, or has the Hyundai had its day? We grabbed the keys to the range-topping seven-seat Premium model to find out.
Verdict
Whether or not you like its bold new styling, Chevrolet has definitely improved the Captiva. Value for money is crucial at this end of the 4x4 market, though, and that's where the newcomer struggles. Not only is it more expensive than its rival, but it doesn't have as much kit and won't hold on to its value as well as the Hyundai. Our experts predict it will retain only 29.9 per cent of its purchase price over three years, which means it will lose £6,791 more to depreciation than the Hyundai. Higher emissions and heavy fuel consumption only add to its woes. So, while the new Captiva is more refined and better to drive than its Santa Fe rival, it's not good enough to overcome the financial considerations.
The Hyundai is nearly as versatile, has stronger performance and more load space where it really matters. And all at a more appealing price.