Renault Twingo vs rivals
Renault's new Twingo has sailed into the UK, hoping to make waves in the city car class. We see how it shapes up against rivals from Toyota and Citroen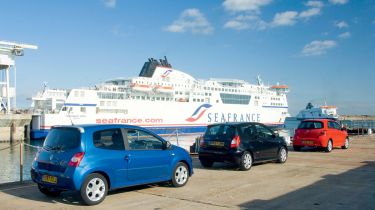 Every year, more than 2.5 million British cars head through the port of Dover on the way to France. And up until now a trip across the Channel was the only time you would have spotted a Renault Twingo.
Unveiled in 1993, the French firm sold 2.4 million of the cute-faced city cars, but it wasn't made in right-hand drive, so never reached the UK. However, the launch of the second-generation model has changed that, and the Twingo has finally 'docked' in the UK. Available for £8,375 in 1.2 Dynamique guise, or £9,995 for the 1.2 GT tried here, the newcomer aims to be a major player in the cut-throat city car segment. So can the Twingo make an impact on these shores?
The competition we've lined up is certainly tough. The Citroen C2 is its top homegrown rival and has been popular in the UK. Citroen recently made its 110bhp 1.6-litre HDi diesel available in VTS trim, and it's this model we test. However, a price tag of £13,400 makes it the costliest C2 in the range.
For considerably less you could choose the Toyota Yaris SR. Originally only available with a 1.8-litre engine, SR trim is now offered with an 85bhp 1.3-litre unit – and with a £10,645 price tag, it falls between its French rivals on cost. So read on to find out which of these city cars with a sporty edge comes out on top.
Verdict
While the new Renault Twingo is a capable city car, it brings little new to the market, and there are more accomplished rivals available for similar money. True, it's cheap and has decent standard equipment, but the GT variant is far from sporty and seems at odds with the model's supposed urban appeal. Worse still, build quality is below par, and the Twingo lacks refinement, which is why it finishes third here.
Citroen is famed for its cashback deals, so haggling down the C2's price – which seems high in this company – shouldn't be a problem. The engine is the best on test, and the VTS is a fun runabout, despite our concerns over its fit and finish. That leaves the Toyota Yaris SR to take top spot. It proves you can buy an upmarket, well built and entertaining supermini without breaking the bank. While the 1.3-litre engine lacks pace, overall it's a great package.