Kia Cee'd SW vs rivals
Looking for a spacious family car? There's some interesting contenders – including Kia's Cee'd SW. We pitch it against Skoda and Nissan rivals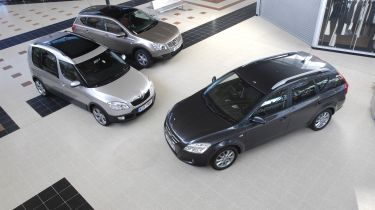 Life used to be so simple. There were three channels on TV, we drank tea or coffee and if we wanted a family car with loads of space, we bought an estate. Not any more. Now you can strain your thumb flicking through endless stations and melt your brain trying to decide which herbal tea you might care for.
And it's nearly as confusing choosing a family car. In order to make the process a little easier, we've lined up three contenders that fall within a reasonable £15,000 budget. Kia underwent something of a revolution earlier this year with the launch of the Cee'd hatch. It's got build quality to rival or better most European brands, plus it comes with a pioneering seven-year warranty – a feature that's likely to catch on with competing firms.
For its latest Cee'd, Kia has played things straight, and the £14,995 SW conforms to the estate format. In contrast, Skoda's Roomster was designed to give drivers an upmarket feel, while allowing their children plenty of squabbling space in the back. The top-spec, off-road-styled 1.9 TDI Scout costs £14,070 – well within our £15,000 budget.
Nissan waved goodbye to tradition when it replaced its Almera and Primera family cars with the Qashqai SUV. It was a bold move, but it seems to have paid off, as sales are high. Here we test the £14,649 Qashqai 1.5 dCi Visia.
Thanks to: The Galleria, Hatfield, Herts (www.thegalleria.co.uk)