1-Series Coupé vs rivals
The all-new 1-Series Coupé aims to take BMW to the top of the class for driving fun. But is the powerful flagship 135i a match for the Audi TT and Volkswagen Golf GTI?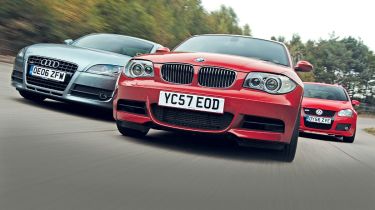 The Ultimate Driving Machine. That is BMW's famous claim – but does it still ring true? The firm's reputation has taken a few knocks in our tests recently: the new M3 has lost to both the Audi RS4 and Porsche Cayman S, the Audi A5 came close to toppling the 335d Coupé and the new X5 was beaten by the Land Rover Discovery.
So could this be the car to stop the slide? On paper, the new 1-Series Coupé looks very promising. It's compact, rear-wheel drive, has a new electronic differential and, in 135i guise, features one of the world's best engines. The twin-turbo 3.0-litre petrol makes this the most powerful car in its class, with performance to rival one of the company's M models. And all for less than £30,000.
It's claimed to be a proper four-seater, and its conservative design places it in between stylish coupés and top-end hot hatches. So here we line it up against one of each. The Audi TT makes no pretence of putting practicality first, but it's better to drive than ever before, looks great and has a meaty, normally aspirated V6 with 4WD underpinnings.
The same engine sees service in parent firm VW's flagship Golf R32 – yet we don't think that's Wolfsburg's best hot hatch. The GTI Edition 30 is not only cheaper to buy and run, but just as fast and fun. While the Golf is pricey compared to direct rivals, it costs £7,423 less than the 135i. So does the new Coupé put BMW's reputation on the road to recovery?
Verdict
If speed is your sole desire, then make a beeline for the BMW. Thanks to its twin-turbocharged 3.0-litre powerplant, the 135i is fast enough to wear an M badge – no doubt about it, the engine is a masterpiece. The trouble is, the rest of the car doesn't manage to hit the same heights.
The coupé lines are not pretty enough, the interior design is lacklustre and, worst of all, the 135i isn't as involving as either of its VW Group rivals.
While the Audi TT is slower and less practical, it emerges from this test as a more desirable car. It's a work of art inside and out, and also great to drive. We'll let you into a little secret, though – the 2.0-litre version is nearly as fast, and has even sweeter handling with much lower running costs.
The Golf GTI emerges ahead of the BMW chiefly because of its price advantage, but it never once felt out of its depth in this company.