Renault Laguna test
Can Renault's new Laguna teach its competitors a thing or two about family cars? We find out as it meets the Ford Mondeo and Peugeot 407 in its first UK test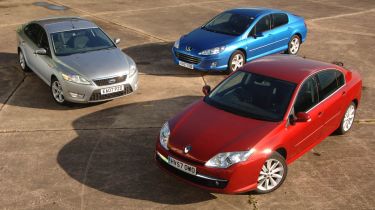 Say bonjour to the new Laguna. It's the car bosses hope will re-establish Renault as a force in the family sector. Since January 1994, when the first-generation model appeared, 2.3 million examples have found homes across Europe.
The French maker is emphasising words such as quality and robustness in its promotional material for the new car, so it's clearly keen to ditch the previous model's reputation for poor reliability, and catch up with the improving standards being seen across the sector.
With that in mind, the Laguna features an all-new platform, is bigger yet lighter, has six-speed gearboxes across the range, a more slippery body and extra equipment. So Renault hopes the car is ready to challenge the big players once again. And that means the third generation of the popular hatchback must face the might of Ford's Mondeo. Our current Car of the Year, the Mondeo has rewritten the rules on refinement, space and driving pleasure for this class.
The Renault will also need to beat its closest homegrown competitor, the Peugeot 407, which is available only as a saloon. We have pictured a 2.2, but tested the 2.0 HDi 136 Sport.
Popular with company car drivers, diesels are the big sellers in this competitive sector. So we put each model's 2.0-litre oil-burner to the test. Read on to find out if the Laguna can inject a little 'je ne sais quoi' into this class.
Verdict
Renault has improved the Laguna in every aspect. The quality of the cabin represents a big step up for the brand, with a sophisticated, modern and easy to use dashboard. And the 2.0-litre dCi diesel engine is smooth and provides plenty of punch.
The new car easily outclasses the Peugeot 407, which is heavier and slower, and has an inferior cockpit. But the Renault cannot match the all-conquering Ford. The Laguna's suspension doesn't cope so well with bumpy surfaces and the ride is unsettled, while the steering is artificial. It finishes second.
The Mondeo retains its class crown. The Ford is larger, offers more rear room and boot space, and is better to drive than its rivals. Confirming its status as an exceptional all-rounder, the chassis combines sharp handling with a beautifully composed ride and great refinement.