VW Caddy Maxi vs Skoda Roomster
Is Volkswagen's new van-based Caddy Maxi the most practical no frills people carrier around? We find out as it tackles Skoda's purpose-built Roomster MPV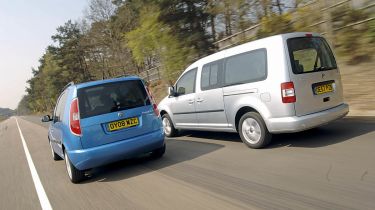 Innovation or imitation? That's what many designers have asked themselves when dreaming up the ideal MPV. There's nothing more practical than a van, but will buyers put up with a tweaked commercial vehicle?
Peugeot, Citroen and Fiat have successfully adapted vans into passenger cars that offer great space. Volkswagen is no stranger to this market, either. It launched a Life version of its Caddy van four years ago – although the model found few fans. Now, the German firm is back with a fresher, larger car: the Caddy Maxi.
The big news is that it's available with seven seats and offers bags of passenger room and stowage. Bosses describe it is a practical but compact car for customers who want versatility and space. But is it as well finished and family friendly as a purpose-built MPV? To find out, we're pitching it against the Skoda Roomster.
While it's smaller, the interior of the Czech model is impressively flexible, and it also has the price advantage in this test. So, is it worth spending the extra and opting for the seven-seat Caddy? We put the two head-to-head...
Verdict
While the Caddy Maxi Life is a decent people carrier, we're still not convinced that it's a serious contender in the MPV class. Even if you can live with the frumpy looks, the interior is not as flexible or as clever as many rivals.
But perhaps the biggest stumbling block is the price tag. At nearly £18,000 for the 2.0 TDI, it's very costly – especially when you consider an entry-level Touran will set you back only £14,295. The Golf-based compact MPV is better to drive, has a much higher-quality interior and still comes with seven seats as standard.
Many rivals can't match the quality of the new VW, but similar commercial-based models such as the Fiat Doblo are far cheaper. Even the range-topping Italian car costs only £12,705, and it also has a third row of chairs.
That's the real reason why the Skoda takes the victory in this test: the Caddy is simply not worth the extra cash.
In comparison, the Roomster offers great value, and has a more upmarket feel inside. Only those buyers who demand the versatility of a seven-seater will find it falling short of their family car needs.