Ford Mondeo Econetic vs VW Passat Bluemotion
The Mondeo is the latest Ford to get the ECOnetic treatment. But is the 'green' label justified? We test it against the Passat Bluemotion.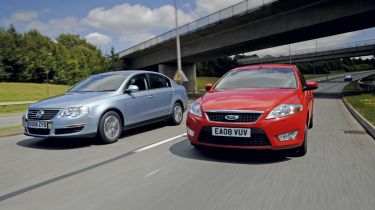 This year, green is the new black. With fuel prices continuing to soar and the Government clamping down even further on CO2 emissions, car makers have been forced to launch a raft of environmentally-friendly models – and they're getting bigger.
Our recent giant test of green-branded models (Issue 1,012) showed manufacturers are now offering a wide variety of solutions to tempt eco-aware motorists, from hi-tech hybrids to stripped-out superminis. One of the stars of our test was the Ford Focus ECOnetic, which combined the standard car's versatility and dynamic excellence with impeccable environmental credentials.
Now the blue oval is giving its full-size family car, the Mondeo, the same treatment. Adopting the ECOnetic badge, the new car gets a range of tweaks that aim to improve fuel consumption and CO2 emissions. The Ford hasn't got the class to itself, however. Volkswagen's Passat Bluemotion claims to be equally green. The German firm is no stranger to planet-friendly motors, having already given its Polo and Golf the Bluemotion treatment. Like these two, the Passat uses tweaked mechanicals and slippery aerodynamics to cut its environmental impact.
So far all variants of the Mondeo have been unbeatable. Can this latest version continue the winning streak, or will the Passat leave ECOnetic owners green with envy?
Verdict
The larger the car, the harder it is to reduce its environmental impact. In extending the reach of their green badges up the range, Ford and VW have attempted to lower emissions in the family class.
And they have succeeded – on paper. Neither of our test cars could match the claimed economy figures, but both still offer low-cost, high-practicality motoring.
In the end, the Ford secures victory. The Passat has a lot to recommend it, such as a low purchase price, premium looks and cast-iron build, but in the end it can't match the all-round brilliance of the Mondeo. It doesn't appear as though you have to make as many sacrifices in doing your bit for the environment – and your wallet!
But there's a feeling both these cars have been developed to a budget. Investment in stop-start technology, regenerative braking and lightweight materials would see even greater eco benefits.