Petrol vs Diesel
Which fuel is really the better bet to cut costs? We reveal all on four of Britain's most popular models.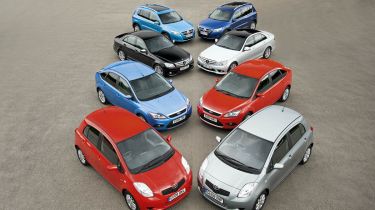 Are the days of diesel being seen as the default choice for budget-conscious car buyers coming to an end?
The difference in price between the green and black pumps means diesel car drivers are paying around 10 per cent more for their fuel. As a result, oil-burners are getting harder to justify. And let's not forget petrol variants are cheaper to buy in the first place.
In Issue 1,024, we were amazed to find that our long-term Mercedes C320 CDI didn't prove to be as sound a financial option as we had expected. We realised that a petrol variant would save money for all but the highest-mileage drivers.
And that got us thinking: is diesel dying out? To investigate, we brought four pairs of cars together. Each is identical to its partner except for the engine under the bonnet – so we got our calculators out to see which makes more sense in each case.
Our supermini choice is Toyota's Yaris, while Ford's best-selling Focus and the Volkswagen Tiguan represent the family hatchback and compact SUV classes. We've also brought along a petrol-powered Mercedes C-Class to compare to our long-term diesel, as a follow-up to our original report.
Our calculations are based on vehicles covering 12,000 miles annually, and we have come up with a 'break-even time' for each diesel car. This is the number of years you need to run the oil-burner for, before the fuel savings start. We've also worked out the number of miles it has to cover before it makes financial sense.
Our calculations are based on the official combined economy figures. Past tests have revealed that these aren't representative of actual fuel consumption, but the controlled situation in which these statistics are achieved provides us with a level playing field for our comparison.
Yet there's more to a petrol versus diesel decision than cost savings. Our verdicts also take into account performance, handling and refinement.
It's time to see if diesel is still as slick as ever – or if petrol power is now the way to go for most motorists.
Verdict
Our black versus green challenge has resulted in a two-all draw – that's how difficult it is to choose the right sort of engine for your car. With a price gap at the pumps that's reflected in the premium diesel buyers pay on the price lists, it's getting harder for oil-burners to justify their place on the top sellers list.
The advice is simple – do your sums very carefully. As we have shown here, it takes years for a diesel model to start saving money unless you cover a high annual mileage. These days, it's the strong torque, gutsy performance and tax savings that will keep many buyers going back to oil-burners, rather than opting for cheaper petrol models.
However, with the help of turbocharging and direct injection, petrol powerplants are catching up on the technology front – and the days of diesel's dominance could be under threat....