Best of British
We fly the flag with eight of the finest new cars money can buy – all of which are assembled in factories on these shores!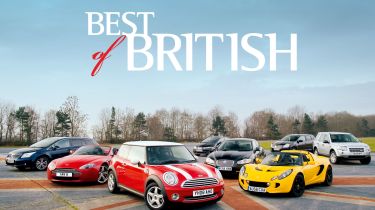 Think the British car industry is dead and buried? Think again.
While the huge UK manufacturing giants of the past are long gone, many motor makers now choose to put their finest models together on these shores – and many of these are the best in class!
To show just how strong UK motor manufacturing really is, we have brought together a handful of the best British car building has to offer. Some of these vehicles will be familiar national institutions, and others might surprise you.
What they all have in common, though, is that they enable you to make a patriotic purchase without fear of opting for a sub-standard model.
The star of the show has to be the MINI. Not only is the famous brand an institution in its own right, but its modern interpretation of the pioneering original is also one of the most capable choices on the market. We've got two more legendary British badges represented by the Jaguar XF and Aston Martin V8 Roadster, while the Land Rover Freelander 2 is also a national treasure.
The long-lived Lotus Elise lines up alongside some big-selling models from Honda, Toyota and Nissan to complete our illustrious group. While recession-fuelled factory shutdowns are in full swing, it's time to take a look at just how capable the British car industry really is.