New Focus RS vs rivals
Ford's 301bhp Focus RS aims to set new standards in the hot hatch class. We see if it can beat challengers from MINI and Subaru.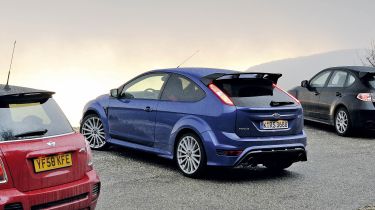 The time has come to test the 21st Century fast Ford to the limit! With development lasting more than five years, a barrage of spy shots and some startling performance claims from engineering bosses, the Focus RS has it all to prove.
In an exclusive group test, Auto Express is first to drive the fastest front-wheel-drive Ford ever built, back-to-back with two of its top class competitors. Following our in-depth special Focus RS supplement free with Issue 1,051, we're all familiar with the newcomer's vital statistics. A colossal 301bhp going through the front wheels, a groundbreaking suspension set-up and the hallowed RS badge should catapult the latest flagship into the fast Ford hall of fame.
Opting not to make the RS four-wheel drive was a controversial decision. Showing the potential of a high-performance 4x4 system here is Subaru's Impreza WRX STi. Now offered only as a hatchback and with a similar power output to the new Ford, the legendary Scooby could be under threat.
But let's not forget the Focus's roots. At heart it's still a hot hatch, which is why we had to bring along our favourite three-door thriller of the moment, the MINI John Cooper Works. With an advanced differential of its own and a significant weight advantage, the 208bhp model could provide an unlikely threat to the flagship Focus.
Buckle up – it's time to find out what the RS can do!
Verdict
Even though the Focus lacks the motorsport roots of a traditional RS, you won't find many fast Ford fans disappointed. It's without doubt one of the finest high-performance cars to wear a blue oval badge – it's that good!
So surely that makes the newcomer our winner? Thanks to the MINI JCW, this verdict is far from straightforward.
Sitting in third place is the Impreza STi. It still has bags of charm and is deceptively fast. However, in the dry, the Subaru's four-wheel-drive system seems unnecessary when compared to two of the best front-driven models on the planet.
The MINI JCW and Focus RS will appeal to a distinct group of buyers. If you want the most extreme and devastatingly fast performance model, you have to choose the Ford. Never mind future classic, it's an instant hit... But that's not enough for victory.
For pure, accessible driving fun at any speed, the MINI has to win. You can savour its playful chassis within the legal speed limit, and it has the added benefit of affordable fuel and tyre bills. You won't stand out like the driver of the RS, but if you let your head rule your heart the JCW will be the better thriller.