Peugeot RCZ vs. stylish rivals
It's the ultimate new car talent contest, as Peugeot's RCZ meets three rivals with a touch of pizzazz...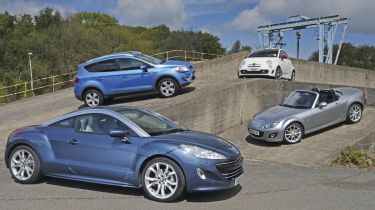 THE X Factor is impossible to define – but if your car has it, the world is your oyster. Peugeot's new RCZ does, and the flagship model beat its coupé rivals in a showdown in Issue 1,107. However, does the lesser THP 156 GT version also get top marks from our judges?
Here we put it to the test in the UK for the first time against an eclectic choice of rivals, each of which provides something extra. After all, if you're willing to spend the £22,750 Peugeot is charging to get a car with the X Factor, you're not only restricted to racy coupés... First in our line of challengers is Mazda's MX-5. The best-selling roadster in the world has star quality running all the way through it. And whether you want sparkling handling, wind-in-the-hair thrills or brilliant reliability, the hard-top Roadster Coupé (RC) version won't disappoint.
Next up is a city car which craves the spotlight. The Abarth 500 Esseesse has an effervescent character, oodles of charm and genuine hot hatch pace – and it could hardly be more different to the final car in our line-up.
Crossover models are hot property right now, and few look as good or drive as well as the Ford Kuga. In two-wheel-drive Zetec form, it offers striking off-roader style for less than the cost of the RCZ. But which of the four gets our vote?
Verdict
PICKING a winner from such a diverse line-up is sure to create a bit of controversy. But in true X Factor style, we have relied on the verdicts of our judges to come up with the final rankings. Only one contender got top marks from our three experts, although there are no losers. All our finalists are set for success.  Here's what our judges said…
1. Peugeot RCZ GT 156THP 2. Mazda MX-5 RC SP. Tech 3. Abarth 500 Esseesse 4. Ford Kuga TDCi Zetec