Hybrid vs diesel
Which is more eco-friendly: a hybrid or a conventional diesel? We put Toyota's new petrol-electric Auris head-to-head with the VW Golf BlueMotion to find out...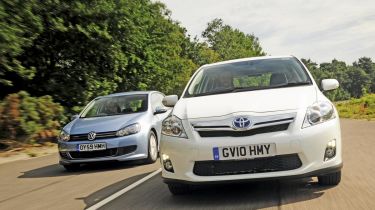 If you're a motorist with an eye for fashion, you'll have noticed that green is the new black. Rising fuel prices and increased taxes mean that fuel-efficient, eco-friendly cars are more popular than ever.
Toyota's answer to environmentally aware buyers has been its clever Hybrid Synergy Drive, which combines an internal-combustion engine with an electric motor. First seen in the bold Prius, the technology-packed drivetrain has now been squeezed into the firm's conventional Auris family hatch, which bosses claim will broaden the appeal of petrol-electric power. With CO2 emissions of 89g/km and a promised 74.3mpg, Toyota believes the newcomer will have owners of traditional diesel hatches turning green with envy.
But the oil-burner isn't dead and buried just yet. The excellent VW Golf BlueMotion is our current fuel-efficient family champ. Take a look at the figures and you'll see the German firm claims exactly the same 74.3mpg economy, while its CO2 emissions of 99g/km still mean free road tax. Factor in the standard Golf strengths of refinement, quality and composed driving dynamics, and it's clear the VW represents a tough test for the Toyota.
So, which of our contenders is more effective at reducing its impact on the environment – and your wallet?
Verdict
OUR two family cars take very different approaches to achieve their eco-friendly credentials – and yet they deliver similar fuel economy and CO2 emissions. The Auris is Toyota's most conventional hybrid model to date, which will no doubt attract buyers who wouldn't normally consider petrol-electric power. And once you've adapted your driving style a little, the HSD delivers decent fuel returns and a good turn of speed. The concept of driving in electric-only mode has strong appeal, too – although the car doesn't do enough to beat the excellent Golf. In BlueMotion trim, it delivers low CO2 emissions and strong efficiency, but with no compromise in the driving experience. On top of this, you get big-car refinement, peerless build quality and a practical cabin. The VW takes a comfortable and well earned victory
1. VW Golf Bluemotion TAKE a drive in the BlueMotion and you'd be forgiven for not realising it's an eco-special, because the refined and composed hatchback drives as well as any other Golf in the range. The only clues are the supermini-sized fuel bills and free road tax. Our sole criticism is the miserly list of equipment included as standard.
2. Toyota Auris HSD THE Auris is easily the most appealing Toyota hybrid yet. By packaging its unique drivetrain into a compact hatchback, the company is sure to attract buyers of conventional diesel models. The trouble is, the car can't match the Golf's classy appeal or practicality.