Renault Clio Pzaz vs Suzuki Splash
Cut-price Renault Clio takes on Suzuki's smart Splash city car in our sub-£10k battle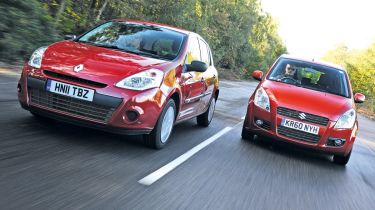 So what does £10,000 buy these days? A year of university tuition fees, three and a half family holidays abroad or an average wedding?
It seems everything is getting pricier, but now Renault has come to the rescue with the new Pzaz edition of its popular Clio.
The five-door model features a 1.2-litre engine that promises close to 50mpg. You even get around £400 change from your £10,000. As you'd expect, the cabin offers little in the way of frills, but there's room for five plus luggage. As far as cheap motoring goes, the Pzaz has a lot to recommend it.
But Renault isn't the only maker catering for this end of the market. The Suzuki Splash has been on sale for three years and the SZ3 model just sneaks under the £10,000 limit. Like the Clio, the Splash is spacious and efficient. Its 1.2-litre engine is a peppy performer and it's also better equipped than its rival.
Question is, will this be enough to convince buyers that the Suzuki is worth the extra?
Verdict
Our bargain-basement duo prove that there's nothing to fear from entry-level motoring. Both cars turn in an impressive performance that makes you question the need to splash out more cash on the expensive models. For instance, the Renault retains all the strengths that make better-equipped models class contenders. Neatly proportioned, with some funky design touches, a spacious cabin and entertaining handling, the Clio puts up a very strong fight in this battle. But in the end, it's marked down by the lack of essential kit – specifically air-con – plus high running costs and lacklustre performance. Buy the Suzuki and, apart from a smaller boot, you'll get an even more spacious and versatile cabin. It's also quicker, more efficient and will prove cheaper to own in the long term – all of which helps it to take top honours here.
1. Suzuki Splash 1.2 SZ3
Better equipped and cheaper to run than the Clio, the Splash is a strong choice. And when you consider that it also enjoys a smoother ride and stronger performance – thanks to its great 1.2-litre engine – it's hard to argue against. Only the less precise handling, smaller luggage space and dull image let it down in this contest.
2. Renault Clio Pzaz 1.2
The Clio boasts entertaining handling and refined road manners, while its cabin is also spacious and well built. But it lacks the Splash's generous standard kit and the dated 1.2-litre engine doesn't provide the same balance of performance and efficiency found in its rival.