Citroen DS5 vs rivals
Our executive champion takes on alternatives from VW and Citroen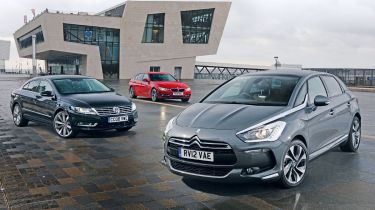 German models dominate the executive car class, but Citroen is looking to break this monopoly with its striking new DS5.
There's more to this car than glitzy looks, though, such as the option of a diesel hybrid powertrain and a level of kit that puts the usual company car choices to shame. We tested the conventional 2.0-litre HDi diesel, which Citroen reckons will account for the majority of sales.
The DS5 isn't the only newcomer relying on eye-catching looks to tempt buyers in the competitive corporate world, as Volkswagen has given its CC a makeover. Fresh styling and improved standard equipment make it more attractive than ever – but to win this test, both models will have to beat the long-standing default choice for go-getting executives.
The BMW 3 Series has made this class its own in recent years and the latest model adds a dash of style to the usual formula. Yet it still looks conservative alongside the DS5 and CC, so does it have what it takes to beat them?
Verdict
Business buyers have never had it so good, as the compact executive class is bursting with new arrivals. But does any of them do enough to displace our class leader? The short answer is no.
The BMW 3 Series is the consummate all-rounder, mixing attractive looks with a classy cabin, low running costs and engaging driving dynamics. Overall, it's a prestige car that won't cost the earth to run and still looks the part.
The DS5 takes a well deserved second place. It has a very specific appeal, but if you like the styling, chances are you'll be willing to overlook the higher tax bill and poor ride quality and handling. And even the mid-range DStyle spec comes with enough standard kit to shame its more expensive rivals here.
That leaves the Volkswagen CC in third place. It's smart and decent to drive, but neither stylish enough nor good enough value to stand out from the crowd here. Yet while it finishes last in 2.o TDI 170 GT form, it's worth remembering that cheaper and more efficient CCs are available.
Winner BMW 3 Series ★★★★★
The 3 Series is bigger and better than before, and now has a splash of style. There are few real weaknesses, so although it's an unimaginative choice for company buyers, it's the best. Let's face it, nothing beats the feeling of knowing you're driving the finest car a class has to offer.
2ndCitroen DS5 ★★★
Even though the Citroen won't be everyone's cup of tea, we think it looks great. It's certain to get you noticed on the road. If only it had the polished driving dynamics to go with its futuristic design. More comfort, precision and composure would make the DS5 a contender.
3rd Volkswagen CC ★★★
Volkswagen has ditched the Passat name, but not much else has changed. The new look divides opinion and the CC is too pricey in this company. It's classy and good to drive, but the impact of its biggest selling point – its distinctive looks – has been reduced by the arrival of the DS5.