Fiat Panda TwinAir vs Nissan Micra
The efficient new Fiat Panda TwinAir meets the low-capacity version of the Nissan Micra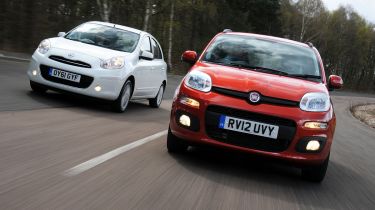 The latest Fiat Panda hasn't had an easy start in life, as it lost out to the Hyundai i10 on its Auto Express road test debut. Yet we loved its quirky looks and eager chassis, and now it has Fiat's TwinAir engine, the Panda's sure to put in a stronger showing.
The tiny two-cylinder turbo model promises to be quicker and cleaner than the 1.2-litre we tried before, and range-topping Lounge trim adds desirable kit such as alloy wheels and front foglights. Lined up alongside it is another city car with an unusual engine.
The Nissan Micra has also struggled to make an impact since its introduction last year. But this DiG-S version features a small supercharged petrol engine to deliver lively performance and lower running costs.
The special-edition Shiro (Japanese for white) comes laden with big-car features, including climate control and parking sensors – but will that be enough for it to secure a maiden road test win over the desirable Panda?
Verdict
The new Panda is by no means perfect, but Fiat's small-car pedigree really shines through in this test. The company has managed to create yet another affordable model that demands no compromises when it comes to style or desirability.
The unique TwinAir engine gives the Panda even more character and means it's also brilliant fun to drive, even if most people will find it difficult to match Fiat's ambitious official economy figures in the real world. It's neither as spacious nor as practical as the Micra, and the absence of basic equipment like ESP and a third rear seatbelt would have counted against it if it was facing cheaper opposition.
The Nissan is a great choice for buyers wanting something to get from A to B as cheaply as possible. It's flexible, more efficient here and comes with a comprehensive list of equipment. But it's hard to overlook its fundamental flaws. Mediocre dynamics and a cost-cutting interior top the list of complaints, and the high price throws these into sharper focus. And just like the rest of the Micra package, its clever DiG-S engine lacks any real character.
Consequently, the Nissan feels miles off the pace of the current class leaders, and this result rarely looked in doubt. So the Panda takes a well earned win at the second time of asking.
WinnerFiat Panda ★★★★
Funky looks, a stylish and attractive interior and a charismatic drivetrain all help the Panda chalk up an impressive win. It has a charming personality, a feelgood factor and a level of desirability that very few small cars can match, and not even the limited practicality can hold it back against the insipid Micra. Plus, improved ride and refinement mean it now feels more grown-up than the old car out of town.
2nd Nissan Micra ★★
Another disappointing showing sees the Nissan taste a third straight road test defeat. While it offers impressive practicality and the kind of kit usually reserved for cars from the class above, its chances are scuppered by numb handling and a disappointing interior. This punchy supercharged model is the pick of the range, but still feels completely outclassed.