Group 8: Family hatchbacks
Practicality, affordability, styling and driving fun... Buyers demand a lot from modern family cars. So which large five-door scores across the board?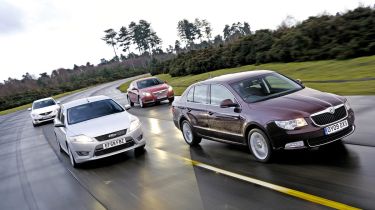 EntrantsWINNER: Skoda Superb (£16,665-£27,875) BEST REFINEMENT: Vauxhall Insignia (£18,800-£33,125) Mazda 6 (£16,115-£21,840)Ford Mondeo (£19,045-£29,619)
If you organised a family car tournament 20 years ago, the overall winner would probably have come from this group. Before the arrival of MPVs and crossovers, the family saloon was the default choice for drivers who needed a spacious and practical model.
The advent of the hatchback added even more flexibility, so for this World Cup test, we've stuck to the five-door versions. And on the grounds of cost, estate variants have been discounted from our showdown – not that any of the contenders here is exactly short on luggage capacity.
The Ford Mondeo is the oldest competitor in this group, although there's plenty of life in it yet. For a start, only the Skoda Superb has a bigger boot, while agile handling and great engines mean the veteran Ford is still a lively player.
But as with many successful sportsmen, the Mondeo is just too expensive. This isn't a criticism that can be levelled at the Mazda 6. It shares the Ford's sharp handling, and its cabin serves up plenty of space, and a raft of standard kit – which makes its competitive pricing all the more impressive.
If it's quality you're after, though, the Vauxhall Insignia is a class act. Sleek styling, great refinement and a classy cabin hint at its executive aspirations. But it loses out in terms of boot space and rear headroom.
When it comes to maximum space for your money, our winner is in another league. The Skoda Superb has limousine levels of rear legroom, while the 565-litre boot is the biggest in this World Cup group.
Quality materials abound in the ergonomically sound cabin, and the twin tailgate is a novel touch that allows the Superb to be used as a saloon or a hatchback.
The driving experience blends composed handling and decent refinement. And clinching the Skoda's place in the next round is its range of the latest VW Group engines and top-value pricing.