Group 2: Supermini-MPVs
These cars combine the driving dynamics of a supermini with the versatility of a people carrier – and competition to reach the quarter finals is fierce.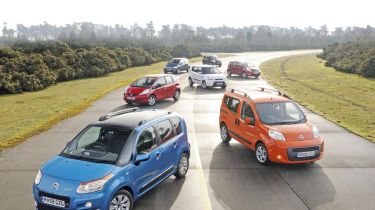 EntrantsOVERALL WINNER - Citroen C3 Picasso (£12,445-£16,545)Honda Jazz (£11,058-£16,183) BEST FOR IMAGE - Mercedes A-Class (£14,735-£20,585) Renault Modus (£10,914-£14,635)Nissan Note (£10,600-£15,200)Kia Soul (£11,495-£16,155) BEST VALUE - Fiat Qubo (£10,250-£13,150)
Given that it's only a few years old, the supermini-MPV class offers an amazing amount of choice. From budget models such as the Fiat Qubo to the prestige of Mercedes' A-Class, there's something for everyone.
And picking a winner isn't easy. Kia bosses say the quirky Soul isn't really a competitor in this market, so it's a measure of how good the Korean model is that it's at home here. In the end, it's not big enough to win, but with a seven-year warranty and affordable pricing, it makes a strong choice.
The A-Class is stylish, spacious and practical. However, the high list price leaves it struggling to compete. At the other end of the spectrum is the Qubo. We're big fans of its fun nature and simplicity. Yet for all its practicality, it lacks the interior quality and space to make the next round. The Nissan Note also fails to seize the initiative. It mixes a versatile cabin with sharp dynamics, although it doesn't have the space to rival the two strongest contenders…
The Honda Jazz is effectively an incredibly well packaged and practical supermini. But while it has the driving characteristics of a nimble hatchback, it doesn't offer the raw boot space of the class-leading Citroen C3 Picasso – and it's the French model that sneaks into the quarter finals.
It blends the quirky appeal of the Soul with the family friendly touches of the Renault Modus. Factor in the most spacious interior, plus a decent engine line-up and a huge windscreen, and the Citroen is a worthy winner.