Group 7: Compact MPVs
European models dominate this sector of the market. Now, we reveal which flexible five-seater takes the glory on the global stage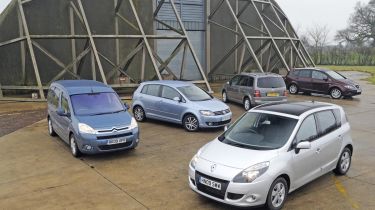 EntrantsWINNER: Renault Scenic (£14,703-£23,637) BEST VALUE: Citroen Berlingo Multispace (£11,785-£15,465)Volkswagen Golf Plus (£15,885-£22,845)Volkswagen Touran (£17,300-£25,015)SEAT Altea (£14,170-£19,640)
You only have to look at English football to realise that inventing a sport doesn't entitle you to be any good at it – so credit must go to Renault. After coming up with the concept of the compact MPV, in the shape of 1996's Mégane Scenic, the brand has maintained a presence at the top level ever since.
We decided that only five-seat compact MPVs were eligible for this tournament, and the Scenic was the favourite to progress. So, did any of our other contenders challenge it? Well, with the seven-seat Mazda 5 and too expensive Ford S-MAX out of the running, this group was an all-European affair, with the Citroen Berlingo and SEAT Altea, plus VW's Golf Plus and five-seater Touran, left to upset the status quo.
In the end, the Renault was simply too strong for its rivals. It has already seen off the Citroen C4 Picasso (Issue 1,067) and Volkswagen's pair of compact people carriers couldn't depose our reigning champ, either. The Golf Plus looks smart and is spacious, but it lacks the family-friendly details of its rivals, while the already expensive Touran commands an extra premium if you want to drop from seven to five seats!
Another VW Group model couldn't do any better – although the SEAT Altea is good to drive and spacious, it's simply not as comfortable as the latest Scenic.
That left only one car for the Renault to beat. And while the C4 Picasso is the obvious Citroen candidate, we think the manufacturer's Berlingo Multispace is even better. As with its Peugeot Partner Tepee sister model, it provides masses of interior space, with prices that start at less than £12,000. But in the end, the Multispace couldn't trump the new-look Scenic as an all-round family package.