Group 3: Budget family cars
Which models make the most financial sense? We bring together four of the best value buys in UK showrooms to name our winner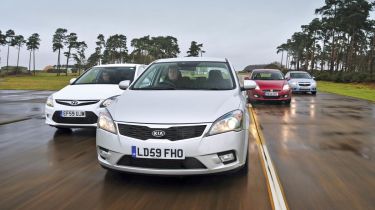 WINNER: Kia Cee'd (£10,995-£16,850) BEST STYLING: Fiat Bravo (£14,100-£18,500)Hyundai i30 (£12,000-£15,550)Chevrolet Cruze (£12,795-£16,045)
At most tournaments, there is usually a group that is wide open, where it's impossible to pick a winner before the whistle sounds... and in our World Cup, this is it.
Go for any of the four contenders in our budget family car class, and you won't feel short-changed. Chevrolet's Cruze provides terrific value for money and generous equipment in a smart saloon body, while the Fiat Bravo is one of the most attractive designs in the whole competition. If looks were the most important thing here, the Bravo would be in the final.
The Kia Cee'd and Hyundai i30 are closely related. They're both stylish, good to drive and excellent value for money, while the Cee'd comes with the added bonus of a market-leading seven-year warranty – two years more than its i30 cousin.
So, which car comes out on top? In the end, our judges simply couldn't ignore the Kia. With a broad line-up that includes the stylish Pro_cee'd model, and the recent addition of stop-start technology, it provides something for everyone. The simply superb guarantee adds the gloss to an already impressive package.
The Fiat comes with a great range of engines and also provides real value for money. Counting against it here are mediocre dynamics and the brand's lowly finish in our annual Driver Power satisfaction survey. But the Bravo is still a fine family car for the money and a resurgent Fiat should be pleased with its showing against some fierce competition.
For its part, the Chevrolet Cruze was fighting with one arm behind its back – as its saloon body doesn't provide the interior flexibility of rivals. However, its underpinnings are shared with Vauxhall's latest Astra, so there's not much wrong with the way it drives. And with prices starting at less than £13,000, it's affordable, too.