Group 5: Compact family estates
Get a load of five of the most practical carriers on the market. One of these luggage-swallowing big hitters could go all the way!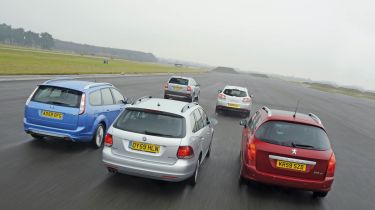 EntrantsWINNER: Volkswagen Golf Estate (£17,200-£23,580) BEST SPACE: Skoda Octavia Estate (£14,350-£23,455) BEST STYLING: Renault Mégane Sport Tourer (£15,255-£23,065)Peugeot 308 SW (£17,045-£23,395)Ford Focus Estate (£18,841-£24,716)
Not all sporting contests are glamorous, but that doesn't make them any less competitive. Take this group. Compact family estates don't sell anywhere near as well as their hatchback stablemates, and they're not as fashionable as MPVs or SUVs. Yet the leading models are as desirable and good to drive as they are spacious.
Competition is cut-throat, with only one car going though to the next round – and first to fall is the Ford Focus. While it's great to drive, it's expensive and has to make do with the smallest boot in this group.
Joining it for an early bath is the 308 SW. With an optional third row of seats, it's the only car that can carry seven people. Plus, all five rear chairs can be folded or removed – but this flexibility isn't enough to win. Some lacklustre cabin materials, dubious styling and a less than engaging driving experience halt the SW's progress.
Beneath the smart-looking body of the Renault Mégane Sport Tourer is a generous boot, plus there's a strong range of engines. Yet it can't match our top two, which battle for a place in the quarter final. The Skoda Octavia has a huge boot, is excellent value and scores on quality, too. Adding another string to its bow is the four-wheel drive and raised suspension of the Scout model in our pictures.
If only the VW Group's latest common-rail 2.0-litre TDI diesel hadn't been left on the bench. This unit isn't available in the Octavia yet, and it costs the Skoda victory.
This means the VW Golf Estate goes through. It blends the hatch's classy image, dynamic polish and modern engines with a 505-litre boot – and will take some beating.